Podcast: Play in new window | Download | Embed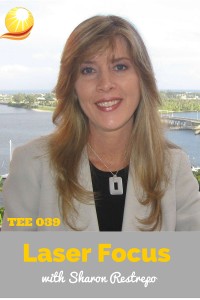 Do you struggle with focusing on one thing at a time? At the end of the day do you wonder what you accomplished? In episode 39 of the The Executive Edge podcast Sharon Restrepo shares with us her edge in being unique. In order to be unique you have to have laser focus. You get what you focus on.
Sharon Restrepo is a full time real estate investor and Broker, buying, renovating and selling homes in South Florida. She is also a national speaker and published author, having taught thousands how to apply her principals to success in the real estate investing arena.
Sharon founded 32 West Realty, Inc. in 1995 to create real estate investment services catering to investors. Becoming an investor in 1993, Sharon found that most agents held a traditional real estate background rather than the type of training, experience or understanding an investor requires.
As a local investor, she has experienced changing market conditions, renovated many properties, managed property, bought from banks and private sellers alike, as well as purchased at local Foreclosure auction. Her years of experience in this market have given her the skills and network necessary to provide professional real estate investment services to her clients.
In addition to being a published author herself, Sharon has been sought after as a National Speaker on the popular topics of Investing in Foreclosure, Short Sales, and Real Estate Investing.
Highlights:
- Unique niche – not being generalized
- Know your business model
- What you focus on expands
- Impossible to be the best at everything
- Laser focus on product or service
- As you focus then other products will evolve
- Business is through word of mouth
- Being transparent
- Procedures need to be clear – in writing is the best
- "Cash follows clarity"
- Lack of communication is when things go wrong
- Being accountable
- Never get to comfortable
- Never cut corners or compromise
- Consistent communication with clients
When communication breaks down – loss of revenue occurs!
Tips:
1. Create standards
2. Simple procedures
3. Procedures in writing
4. Focus on the niche that you're really good at
5. Being the best and communicating all along the way
6. Have fun!
To connect with Sharon Restrepo goto www.32WestRealty.com.
Thank you for listening to The Executive Edge podcast! Please leave a question so we can address it on the podcast so you can uncover, realize and accomplish your potential!
Music provided by FREESFX
_____________________________________________________________
Linda H. Yates – The Image Energizer is a highly sought Keynote Speaker, Executive Coach and Corporate Trainer. She has produced over 250 educational seminars on helping individuals and businesses uncover, realize and accomplish their goals. Host of The Executive Edge podcast and author of the audio course and workbook 6 Steps to ENERGIZE Your Personal Brand, Linda Yates believes that NOTHING is Impossible!