Podcast: Play in new window | Download | Embed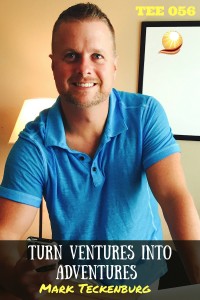 Have you ever wanted to start your own business? Does being an entrepreneur scare or excite you? Today's guest on episode 56 of The Executive Edge podcast shares how his edge has been taking a venture and turning it into an adventure.
Mark Teckenburg is the CEO/Founder of PushSave®, which is a cool tech company focused on creating the simple, yet obvious value added fundraising solution the customized mobile coupon book, for non-profits and youth organizations across the United State of America.
Mark is a passionate entrepreneur and business professional with a core expertise centered on marketing and sales strategies. He has designed products, implemented creative communication campaigns, and marketing automation processes. He is a master at corporate branding. Mark has over 20 years of experience in a variety of industries including sports management, manufacturing and technology start-ups. Mark has continually demonstrated the ability to bring businesses from a negative balance sheet into profitability and prosperity. He utilized his creative ability and out-of-the-box thinking to establish new and innovate go-to-market strategies.
Here are some of the highlights from this episode:
- How to think analytically and creatively in business
- Starting a business that failed miserably
- The quicker you fail the quicker to success
- Love what you do – the key to success
- Interviewing a billionaire
- Lessons learned in starting a business
- Managing failure and how to get back up
- Starting a business that you are passionate about
- Keep searching until you find your passion
- Turning a venture into an adventure
- Making a difference in other's lives
- An innovative way for school children to fund raise
- How to market effectively
- Know your target audience
Tips for being an entrepreneur or entrepreneurial:
1. Take the risk
2. Gain traction
3. Follow your passion
To connect with Mark Teckenburg at: mark@pushsave.com.
If you have a business idea that you have been putting off take action today. Even one small step will empower you. You never know when the venture you take will turn into an adventure of a lifetime.
Thank you for listening to The Executive Edge podcast! Please leave a question so we can address it on the podcast so you can uncover, realize and accomplish your potential!
Music provided by FREESFX
_____________________________________________________________
Linda H. Yates – The Image Energizer is a highly sought Keynote Speaker, Executive Coach and Corporate Trainer. She has produced over 250 educational seminars on helping individuals and businesses uncover, realize and accomplish their goals. Host of The Executive Edge podcast and author of the audio course and workbook 6 Steps to ENERGIZE Your Personal Brand, Linda Yates believes that NOTHING is Impossible!