Podcast: Play in new window | Download | Embed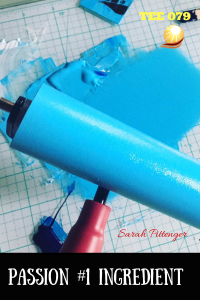 What are you passionate about? Are you living your passion? In episode 79 of the Executive Edge Podcast entrepreneur Sarah Pittenger shares how she has turned her passion into a thriving business.
Sarah Pittenger is dedicated to infusing creativity into everything she does. Sarah studied Graphic Design at Boston University with Alston Purvis as her mentor, obtaining a Masters of Fine Arts in 2009. She has worked in a variety of design-centric rolls over the last decade mostly in higher education—Boston College, Boston University and the University of Colorado—and also with the David Allen Company.
Sarah is the founder of Lady Hanover Press in Brunswick, Georgia where she specializes in letter press work. She is a forward-thinking, classically-trained designer with a strong understanding of design fundamentals: typography, proportion, scale, color and composition. Sarah enjoys working with both old and new technology to create relevant, fun, and witty designs.
Highlights from this episode:
- Turning a passion into a career
- Identifying the thread in your passion
- How mentors are critical to finding your passion
- Flexibility as an entrepreneur
- Staying motivated when times are slow
- How networking is key
- Find what you are good at and work hard
- Integrating into the community
- Importance of responding
Tips:
1. Research
2. Practice
3. Network
To connect with Sarah, go to www.LadyHanoverPress.com.
Tapping into your passion can deliver huge results. If I can assist you in that process, please email me at Linda@lhyatesconsulting.com.
Thank you for listening to The Executive Edge podcast! Please leave a question so we can address it on the podcast so you can uncover, realize and accomplish your potential!
Music provided by FREESFX
_____________________________________________________________
Linda H. Yates – The Image Energizer is a highly-sought Keynote Speaker, Executive Coach and Corporate Trainer. She has produced over 250 educational seminars on helping individuals and businesses uncover, realize and accomplish their goals. Host of The Executive Edge podcast and author of Beyond the Clothes, and the audio course and workbook 6 Steps to ENERGIZE Your Personal Brand, Linda Yates believes that NOTHING is Impossible!