Podcast: Play in new window | Download | Embed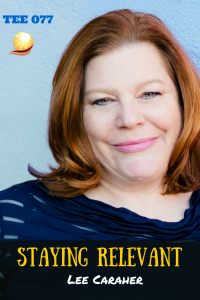 How do you compete for the job you want? Do you feel relevant? The work environment is changing dramatically. Whether you are hiring or looking to be hired staying relevant is the key to today's success. In episode 77 of the Executive Edge Podcast Lee Caraher shares her insight on how to stay relevant in the changing marketplace.
Lee Caraher is the CEO of Double Forte PR & Digital Marketing; an acclaimed communication strategist, she's known for her practical solutions to big problems. Her company works with some of the top consumer and technology brands in the country.
Lee's the author of Millennials & Management based on her experience with failing and then succeeding at retaining Millennials. She also recently published The Boomerang Principle. Both can be found on Amazon.
Lee has a reputation for building cohesive, high producing teams who have fun together at the same time. She is a straight talker who doesn't hold too many punches, although she does her best to be pleasant about it. Her big laugh and sense of humor have gotten her out of a lot of trouble.
Lee is active in the community and currently serves on three nonprofit boards. A graduate of Carleton College with a degree in Medieval History, which she finds useful every day, Lee lives with her husband, two sons and a blind cat.
Highlights from this episode:
- How to recruit with ease
- Corporate Alumni program
- Orientation for new hires
- Repeat hiring processes
- How millennials are impacting the workforce
- Understanding into how millennials think
- Career Builders vs. Job Hoppers
- Communication tips
- Recruiting strategies
- Staying relevant in a fast changing world
- Image principles
- Circle of Conflict Resolution*
Tips:
1. Set up expectations early and often
2. Ask for feedback on how to improve
3. Millennials expect to be heard
To connect with Lee, go to www.LeeCaraher.com or on Twitter @LeeCaraher. Check out her podcasts: Everything Speaks and Focus Is Your Friend.
Whether are looking to change your career or start a business applying the tips from this episode will benefit you greatly. If I can assist you in that process, please email me at Linda@lhyatesconsulting.com.
Thank you for listening to The Executive Edge podcast! Please leave a question so we can address it on the podcast so you can uncover, realize and accomplish your potential!
Music provided by FREESFX
_____________________________________________________________
Linda H. Yates – The Image Energizer is a highly-sought Keynote Speaker, Executive Coach and Corporate Trainer. She has produced over 250 educational seminars on helping individuals and businesses uncover, realize and accomplish their goals. Host of The Executive Edge podcast and author of Beyond the Clothes, and the audio course and workbook 6 Steps to ENERGIZE Your Personal Brand, Linda Yates believes that NOTHING is Impossible!
*