Podcast: Play in new window | Download | Embed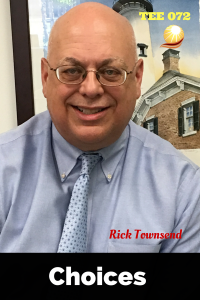 What choices have you made that you would make again? What choices would you not make? In episode 72 of The Executive Edge podcast Rick Townsend share's how his motivation for the choices he has made has come from wanting to give back.
Rick Townsend's career in education spans over two decades. During this time, he has served as a teacher, coach, career-technology supervisor, assistant principal, principal, assistant superintendent, and acting superintendent. His career includes working with all levels pre-kindergarten through twelfth, rural to suburban, and economically disadvantaged to wealthier systems around the State of Georgia. He is in his seventh year at the Golden Isles College & Career Academy.
Dr. Townsend is a graduate of Reinhardt College, the University of Georgia, and the State University of West Georgia. He completed requirements for a Doctor of Education in School Improvement from the State University of West Georgia in 2011.
Dr. Townsend is a member of many professional organizations. He was recently selected to serve on the Ford Next Generation Learning National Council. Dr. Townsend was also selected previously for the Georgia Leadership Academy's Institute for New Leaders and the Superintendents Professional Development Program, a two-year executive level program. He has also participated in the Georgia Leadership Institute for School Improvement, the Georgia School Superintendents Association Human Resources Institute and was inducted into the Phi Delta Kappa educational honor society.
Dr. Townsend has been active in many community and philanthropic organizations, which include Kiwanis, Lions Club, and United Way. Recently, he was selected to attend the Kiwanis International Convention in Toronto, Canada as a voting delegate and is immediate past-president for Brunswick Kiwanis Club.
He lives on St Simons Island with his wife Carolyn, and their three daughters, Haley, Emily and Molly.
Highlights from this episode:
- Joy of giving back
- Impact on the rising generation
- Making a career choice for the future
- Establish a network to accomplish your goals
- Seeking how to build relationships
- Stay true to your values
- Don't be afraid of different views
- Be confident in all you do
- Evaluating who should be on your team
- Keep your options open
Tips:
1. Mix your passion with profitability
2. Evaluate your options
3. Enjoy your daily tasks
To connect with Rick, go to LinkedIn or www.GICA.us.
Crossroads occur during our journey. Being able to anticipate the outcome of our choices is a skill. Others can influence and guide us through those crossroads. We are not alone and don't have to be. If I can assist you in that process, please email me at Linda@lhyatesconsulting.com.
Thank you for listening to The Executive Edge podcast! Please leave a question so we can address it on the podcast so you can uncover, realize and accomplish your potential!
Music provided by FREESFX
_____________________________________________________________
Linda H. Yates – The Image Energizer is a highly-sought Keynote Speaker, Executive Coach and Corporate Trainer. She has produced over 250 educational seminars on helping individuals and businesses uncover, realize and accomplish their goals. Host of The Executive Edge podcast and author of Beyond the Clothes, and the audio course and workbook 6 Steps to ENERGIZE Your Personal Brand, Linda Yates believes that NOTHING is Impossible!