Podcast: Play in new window | Download | Embed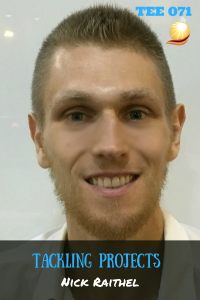 How do you go about tackling projects? Have you ever felt overwhelmed by them? Have you ever wanted to write a book? Whether you are writing a book, starting a business or you have a project looming episode 71 of The Executive Edge podcast provides some great tips to accomplish your goals.
Nick Raithel is the creator of "The 7 Hour Book". This proven system allows any executive or entrepreneur to get their own professionally-published book while spending only 7 hours of their time on it.
With the 7-Hour Book, Nick is on a mission to help executives and entrepreneurs. Time and again, he's seen individuals in nearly every community who have incredible stories and expertise to share. A book would be the ultimate way for them to share their insights, stand out from their competitors, and succeed in their businesses. Yet the issue always seems to be that no one has any time.
Seeing this, Nick combined advanced time management strategies with his own experiences in publishing and marketing. The result was "The 7-Hour Book", a service that's been delighting clients ever since.
Highlights from this episode:
- Taking big projects and breaking them down
- Questioning assumptions
- Building something from scratch
- How to keep pressing forward
- Getting of the way of our own progress
- How a book can be a business card
- Step by step process to accomplish your goals
- Suggested book: Magic of Thinking Big by David Schwartz
- Expose yourself to a variety of ideas to stimulate creativity
- Rising above challenges
- Celebrate your individuality
Tips:
1. Time your tasks
2. Just start
3. Think big
To connect with Nick, go to www.ContentCorps.net
No matter what the project is, you have the ability to tackle it. All it takes is consistent momentum and you will see your goal realized. If I can assist you in that process, please email me at Linda@lhyatesconsulting.com.
Thank you for listening to The Executive Edge podcast! Please leave a question so we can address it on the podcast so you can uncover, realize and accomplish your potential!
Music provided by FREESFX
_____________________________________________________________
Linda H. Yates – The Image Energizer is a highly-sought Keynote Speaker, Executive Coach and Corporate Trainer. She has produced over 250 educational seminars on helping individuals and businesses uncover, realize and accomplish their goals. Host of The Executive Edge podcast and author of Beyond the Clothes, and the audio course and workbook 6 Steps to ENERGIZE Your Personal Brand, Linda Yates believes that NOTHING is Impossible!