Podcast: Play in new window | Download | Embed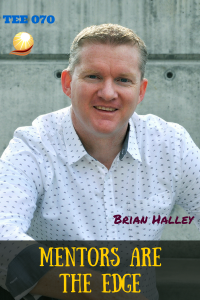 Have you ever struggled and didn't not where to turn? Mentors are the edge in order to move forward. In episode 70 of the Executive Edge podcast Brian Halley shares how mentors provided the way to build a six-figure business.
Brian Halley is the founder of Right Think, a company dedicated to helping small businesses access the secrets of branding that have traditionally been only available to big brands with big marketing budgets. In order for small businesses to gain ground and grow in today's overcrowded marketplace, it is imperative that business owners receive a sound branding education and apply branding principles to their businesses.
With 20 years of design experience, working with brands like Reebok, Nordic Track, Harry Potter, Jelly Belly and the NBA, and building his own brand from scratch, Brian brings extraordinary value to small businesses by helping them understand that a brand is much more than a logo, and how creating a brand strategy based on his 4 Pillars of Branding, will advance a brand visually, drive effective, targeted marketing plans and guide important business decisions throughout the life of a brand.
Highlights from this episode:
- Inspirational moment from an historical event
- Power of mentors
- Learning to "relearn"
- How experiences from others can be a roadmap to success
- How ignorance can be a stumbling block
- How to enhance a brand that has already been created
- The path from a corporate job to entrepreneurship
- Mindset is the first step to making your dreams come true
- Not giving up on your idea
- Pros and cons of entrepreneurship
- Keeping priorities in line with your values
- Living to the purpose of your life
- How to work with your spouse and make it work
- Discovering untapped strengths
- How hiring a coach can take your further faster
Tips:
1. Desire with all of your heart
2. Commitment to go all the way
3. Believe your dreams and goals can come true
To connect with Brian, go to www.Right-Think.com.
Whether you are thinking about starting a business, struggling with the business you have or are wanting to accomplish a new goal or dream, mentors are the edge for you to utilize in order to make it happen. Mentors and coaches have perspective and that perspective will save you time and money.
Thank you for listening to The Executive Edge podcast! Please leave a question so we can address it on the podcast so you can uncover, realize and accomplish your potential!
Music provided by FREESFX
_____________________________________________________________
Linda H. Yates – The Image Energizer is a highly-sought Keynote Speaker, Executive Coach and Corporate Trainer. She has produced over 250 educational seminars on helping individuals and businesses uncover, realize and accomplish their goals. Host of The Executive Edge podcast and author of Beyond the Clothes, and the audio course and workbook 6 Steps to ENERGIZE Your Personal Brand, Linda Yates believes that NOTHING is Impossible!