Podcast: Play in new window | Download | Embed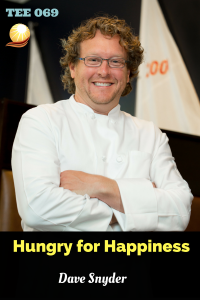 Are you hungry for happiness? What stirs your passion? In episode 69 of The Executive Edge podcast Dave Snyder, Owner and Executive Chef shares how being hungry for happiness is the key to success.
For Dave Snyder, the past three decades have been filled with culinary pursuits from New England to his beloved South. Born and raised in Michigan, his unabashed passion for cooking began in high school and college at the University of Georgia when he quickly discovered a preference for the kitchen over the classroom.
Following graduation from the New England Culinary Institute in Vermont, he moved to New York City, gaining experience and sharpening his skills at The Essex House, Zoe, Union Square Café, and The Mark while serving under top chefs who prided themselves on training the next generation of chefs. Heading south, Dave became executive chef at Azalea in Atlanta before moving to St Simons Island, Georgia as chef at J Mac's. In 2000, he opened Halyardstr on St. Simons and, in 2006, opened Tramici. These two sister operations, along with Halyards Catering, comprise Halyard Restaurant Group.
His two restaurants, perennially ranked the Island's and region's most popular, enable Dave to share his love of hospitality, food, and how the two intertwine to create memorable culinary experiences, including his monthly cooking classes focusing on how great food enhances life. Drawing on his relationships with local fishermen and farmers, Dave demonstrates to eager guests how the best ingredients make a tremendous difference in the quality of the food, the sustainability of the environment and the financial strength of the local economy. He serves on the Advisory Panel for Snapper/Grouper Species for the South Atlantic Fishery Management Council and has worked with the South Atlantic Fishermen's Association to improve the sustainability and health of the South Atlantic, the availability of local fish and the financial future and heritage of the fishing industry.
The Georgia Restaurant Association named Dave a finalist for Restaurateur of the Year in 2012 and selected him as one of four chefs to represent the GRA's Georgia Grown program in 2013. In 2014, Dave was selected to serve on the Board of Directors for the Georgia Restaurant Association.
Halyards and Tramici were named 2014 Businesses of the Year by the Brunswick and Golden Isles Chamber of Commerce.
Dave self-published a cookbook and produces and sells a housemade Marinara sauce from the recipe he created for Tramici. His other projects include plans to grow olives for producing extra virgin olive oil to serve at his restaurants.
Deeply devoted to community service, Dave serves on the Board of Directors for the Chamber of Commerce, Coastal Symphony of Georgia, The Boys and Girls Club of Southeast Georgia and Hospice of the Golden Isles. Dave is a founding board member of the St. Simons Food & Spirits Festival, benefitting Hospice of the Golden Isles. He also serves on the Culinary Board for College of Coastal Georgia and is an active supporter of local numerous area organizations including The St. Simons Land Trust, Cystic Fibrosis and The Humane Society of South Coastal Georgia. He is also involved in events and fundraisers at local schools where he hopes to inspire the next generation of chefs and restaurant leaders.
Dave's most recent venture, Hook & Knife Charters, combines his skills and passion for fishing with those of preparing and serving catches to delighted charter guests at his restaurants. To learn more about these unique experiences, visit HookandKnifeCharters.com. Dave also loves to venture to Islamorada in the Florida Keys–his home away from home.
Highlights from this episode:
- Happiness in places you wouldn't expect
- Being hungry leads to fulfillment and success
- Finding balance
- Letting go and letting others step in to support
- Getting one more thing out of each day
- Lessons taught by parents
- How to create happiness for oneself and others
- How to find your passion
- Asking questions leads to growth
- Define specific goals
- What's the next goal
- Your "why" can evolve
- Impact from building a business
- Your number one asset as a CEO
- How to treat a variety of personalities
- Lessons learned from mistakes
- How mentors help you grow
Tips:
1. Take time to listen to others
2. Make balance a priority
3. Keep reading
To connect with and follow Dave on Instagram: ChefDaveSnyder or www.Halyardrestaurantgroup.com Or www.HookandKnifeCharters.com.
Striving for happiness is not just a trait for entrepreneurs. Happiness is possible. Your outlook is the first step to being happy. Staying hungry, being curious are the next steps to making your dreams a reality.
Thank you for listening to The Executive Edge podcast! Please leave a question so we can address it on the podcast so you can uncover, realize and accomplish your potential!
Music provided by FREESFX
_____________________________________________________________
Linda H. Yates – The Image Energizer is a highly-sought Keynote Speaker, Executive Coach and Corporate Trainer. She has produced over 250 educational seminars on helping individuals and businesses uncover, realize and accomplish their goals. Host of The Executive Edge podcast and author of Beyond the Clothes, and the audio course and workbook 6 Steps to ENERGIZE Your Personal Brand, Linda Yates believes that NOTHING is Impossible!