Podcast: Play in new window | Download | Embed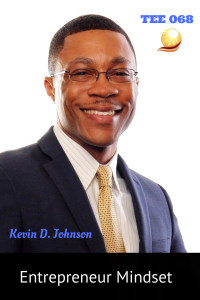 What is an entrepreneur mindset? What makes an entrepreneur tick? Episode 68 does a deep dive with Kevin Johnson, author and long-time entrepreneur.
Kevin D. Johnson, founder and president of Johnson Media Inc., has over 16 years of experience leading his award-winning marketing and communications company that serves many FORTUNE 100 businesses. As an innovative leader, he has appeared on CNN, ABC's Good Morning America, CBS, Oprah Radio, and in The New York Times and The Wall Street Journal. Before founding his company in 2000, he engineered web applications and produced computer software for leading companies such as IBM, CNN, and Arthur Andersen Worldwide. Hailing from Boston, Kevin attended Morehouse College in Atlanta where he studied computer science as a NASA scholar and Spanish, graduating with honors. In his spare time, Kevin enjoys working with nonprofits, listening to salsa and jazz, playing piano in his Latin band, reading, golfing, traveling, and running marathons. Kevin published the bestselling book, The Entrepreneur Mind, which has been #1 on Amazon since its launch in 2013.
What we learned from this episode:
- How persistence pays off
- An average of 11 years to make a million dollars
- What it takes to reach big revenue goals
- How to keep being persistent
- Fear of going back to a 9:00 a.m. to 5:00 p.m. position
- How to find the right people
- Changing challenges into necessities
- The amount of an entrepreneur struggles the greater your success
- How success can be leveraged to help others
- What problems Kevin and his team solve
- Thinking as an entrepreneur
- How your "why" can change
- Inspiration to change your life
- How important creating a tight-knit team
- Finding common ground
Tips:
1. Make sure you solve a problem
2. You don't have to launch a perfect product
3. Surround yourself with innovative and inspiring people
To connect with Kevin, go to twitter: @bizwizkevin or www.johnsonmedia.com
You don't have to be an entrepreneur to have the entrepreneur mindset. If you apply the persistence and the other tips we covered today you will be successful in whatever venture you pursue.
Thank you for listening to The Executive Edge podcast! Please leave a question so we can address it on the podcast so you can uncover, realize and accomplish your potential!
Music provided by FREESFX
_____________________________________________________________
Linda H. Yates – The Image Energizer is a highly-sought Keynote Speaker, Executive Coach and Corporate Trainer. She has produced over 250 educational seminars on helping individuals and businesses uncover, realize and accomplish their goals. Host of The Executive Edge podcast and author of Beyond the Clothes, and the audio course and workbook 6 Steps to ENERGIZE Your Personal Brand, Linda Yates believes that NOTHING is Impossible!