Podcast: Play in new window | Download | Embed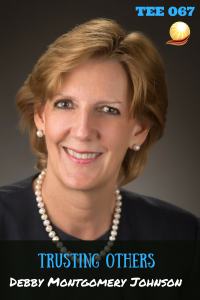 Do you have a trusting disposition? Or does it take you a long time to develop trust. In episode 67 of the Executive Edge podcast, Debby Montgomery Johnson shares how her trusting nature led to fraud and deception. Her real-world experience on what to do and what not to do will help protect you in your personal and work life.
Debby hails from Vermont and a graduate of Phillips Exeter Academy and the University of North Carolina-Chapel Hill, Debby is like many entrepreneurs and her background is diverse. From working as a paralegal and bank branch manager to being a U.S. Air Force officer, serving as an Intelligence Officer at the Pentagon, the Defense Intelligence Agency and in Wiesbaden, Germany, Debby's working experiences prepared her for being an entrepreneur, however, she took over as President of Benfotiamine.Net, Inc. when her husband and the founder of the company passed away in 2010. Benfotiamine is a vitamin supplement that provides an alternative solution for the pain of neuropathy, a nerve disorder.
Highlights from this episode include:
- Jumping in and doing something new
- Do the best you can
- Working with purpose
- Have a support team
- Accountability partners
- Being comfortable being uncomfortable
- The reason for an Exit Strategy
- Realizing when you need help
- How to recognize your individual passion
- Your company is not your ATM machine
- Value of having a life outside of the company
- An online dating experience that what bad
- How to protect yourself from scams
- You can do hard things
- Do your due diligence
- You don't always have to be fine
- Positive things can come out of tragedy
Tips:
1. Listen to what others are telling you
2. Get out of your comfort zone
3. Always ask for a second opinion
4. Do the very best you can
Debby is the author of "The Woman Behind the Smile,-Triumph Over the Ultimate Online Dating Betrayal, and is an international speaker and is ready to serve!
You can connect with Debby at info@benfotiamine.net or 888-493-8014. Her website is:
www.BenfoComplete.com and www.TheWomanBehindtheSmile.com
Your image is impacted by how others trust you. Whether it is business in or in your personal life. When you are trustworthy, opportunities will come and success will be yours.
Thank you for listening to The Executive Edge podcast! Please leave a question so we can address it on the podcast so you can uncover, realize and accomplish your potential!
Music provided by FREESFX
_____________________________________________________________
Linda H. Yates – The Image Energizer is a highly-sought Keynote Speaker, Executive Coach and Corporate Trainer. She has produced over 250 educational seminars on helping individuals and businesses uncover, realize and accomplish their goals. Host of The Executive Edge podcast and author of Beyond the Clothes, and the audio course and workbook 6 Steps to ENERGIZE Your Personal Brand, Linda Yates believes that NOTHING is Impossible!