Podcast: Play in new window | Download | Embed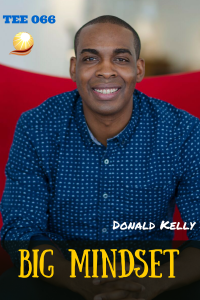 Have you ever had a dream you thought was impossible? What mindset do you need to make that dream a reality? Donald Kelly, The Sales Evangelist shares how having a vision is one of the steps to do big things on episode 66 of the Executive Edge podcast.
Donald is the host of the popular sales podcast, "The Sales Evangelist". He is the founder of The Sales Evangelist Consulting Firm where he helps small companies develop killer sales process to scale their business and increase growth.
Donald is also an award-winning speaker, sales trainer, and coach. He's a big fan of traveling, South Florida staycations and high-quality family time. Donald has a belief that "anyone" can sell if they have the desire and receives the proper training.
Some of the highlights from this episode:
- Being personable and approachable
- Positive mindset
- Effective processes = positive results
- How a little idea turned into a business
- How to keep going when you are tired
- How not to quit
- Where to market your business
- Keep a big focus
- Master the details
- Focus on the most important now
- Thinking and acting like an entrepreneur while working for someone else
- Laying out a detail plan
Tips:
1. Know your "why"
2. Know your ideal customer
3. Have a vision
You can connect with and follow Donald Kelly @ www.TheSalesEvangelist.com.
Little things determine the big outcomes. Your mindset is the key to unlock the door of possibility. You get what you focus on. What are you focusing on now that is serving you? What are you focusing on now that's holding you back? Your mindset is the first step to accomplishing your dreams.
Thank you for listening to The Executive Edge podcast! Please leave a question so we can address it on the podcast so you can uncover, realize and accomplish your potential!
Music provided by FREESFX
_____________________________________________________________
Linda H. Yates – The Image Energizer is a highly-sought Keynote Speaker, Executive Coach and Corporate Trainer. She has produced over 250 educational seminars on helping individuals and businesses uncover, realize and accomplish their goals. Host of The Executive Edge podcast and author of Beyond the Clothes, and the audio course and workbook 6 Steps to ENERGIZE Your Personal Brand, Linda Yates believes that NOTHING is Impossible!