Podcast: Play in new window | Download | Embed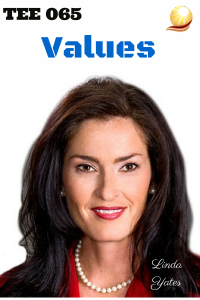 What are your values? How do they impact your decisions? In episode 65 of the Executive Edge podcast Linda Yates shares how your values are the framework for every decision big or small.
In this episode, you will learn the following:
- What are Linda's values
- The importance of values
- How decisions are based
- Linda's journey to becoming an entrepreneur
- How health was impacted because of choices
- How priorities can change
- How decisions determine destiny
Your values are yours's alone. You may allow others to dictate how and when you make decisions. At the end of the day, you always have a choice. Values are key to accomplishing your goals and realizing success.
Be sure to sign up for our FREE eBook: Uncover the Possible – 12 Keys to Success.
Thank you for listening to The Executive Edge podcast! Please leave a question so we can address it on the podcast so you can uncover, realize and accomplish your potential!
Music provided by FREESFX
_____________________________________________________________
Linda H. Yates – The Image Energizer is a highly-sought Keynote Speaker, Executive Coach and Corporate Trainer. She has produced over 250 educational seminars on helping individuals and businesses uncover, realize and accomplish their goals. Host of The Executive Edge podcast and author of the audio course and workbook 6 Steps to ENERGIZE Your Personal Brand, and Beyond the Clothes, Linda Yates believes that NOTHING is Impossible!