Podcast: Play in new window | Download | Embed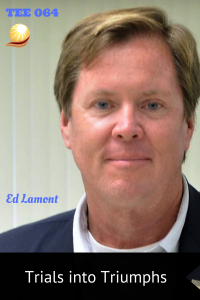 Have you ever had a trial that knocked the wind out of you? In episode 64 of the Executive Edge Podcast, Ed Lamont shares how to turn trials that come, into triumphs. As an entrepreneur, trials come in all shapes and sizes. Getting the right advice and feedback can save time and money.
Ed Lamont CIC, CRM, CPIA began his insurance career in Columbia, Maryland after receiving a Bachelor of Arts degree in Law Enforcement from the University of Maryland. He's specialized as a Workers Compensation producer. In 1997, Ed founded the Lamont Consulting Group, Inc. in Palm Beach, Florida.
Ed's taught, consulted and presented throughout the country to various trade organizations. He specializes in the insurance industry on sharing how to sell and build relationships. He wrote Street Smart Selling: The Beliefs, Strategies, and Management Ideas of Successful Insurance Professionals and is a contributor to the Society of Certified Insurance Counselor's Resources magazine. Ed's sales and marketing ideas have appeared in American Agent and Broker magazine. 
Ed's the founder of the Bill Gove Golden Gavel Toastmaster club in Boynton Beach, Florida and Palm Beach Toastmaster Club in West Palm Beach, Florida. He serves as a docent at the Henry Morrison Flagler Museum in Palm Beach, where he was recognized as 2001, 2006, and 2007 Interpretive Docent of the Year. Ed frequently presents American history topics to Daughters/Sons of the American Revolution Chapters, Rotaries, church groups, and private membership organizations. He lives in Boynton Beach, Florida with his wife, Liz, and bluetick coonhound, Mollie.
In this episode, we learn:
- Turning a trial into a triumph
- The power of "street-level" creditability
- Being able to apply real world experience
- Understanding how you are unique
- Realizing that as an employee you are still a profit center
- "If it is to be, it is up to me"
- Balance all of the requirements of being an entrepreneur
- How to position yourself as an expert
- The importance of information
- When to give advice and when not to
- How to keep your business moving
- How to pick your lane to grow your business
- Being open to feedback
Tips:
1. Approaching clients as profit centers
2. Staying physically fit
3. Measure your activities
You can connect with and follow Ed on LinkedIn or call him directly at 561-737-7388.
Trials can be gifts. Looking for the gift is the key to reaching success. Change your perspective to view what seems like might be impossible, as an opportunity to triumph into the possible.
Thank you for listening to The Executive Edge podcast! Please leave a question so we can address it on the podcast so you can uncover, realize and accomplish your potential!
Music provided by FREESFX
_____________________________________________________________
Linda H. Yates – The Image Energizer is a highly-sought Keynote Speaker, Executive Coach and Corporate Trainer. She has produced over 250 educational seminars on helping individuals and businesses uncover, realize and accomplish their goals. Host of The Executive Edge podcast and author of Beyond the Clothes, and the audio course and workbook 6 Steps to ENERGIZE Your Personal Brand, Linda Yates believes that NOTHING is Impossible!