Podcast: Play in new window | Download | Embed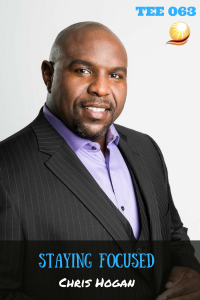 What do you do in order to stay focused? Chris Hogan shares his tips on episode 63 of The Executive Edge podcast. From retirement to leadership his insight covers it all.
A popular and dynamic speaker on the topics of financial education and leadership, Chris Hogan works with businesses and high-profile clients across the country, helping them develop strategies that increase their revenues, protect their wealth, and secure their financial futures. He is the host of the Retire Inspired Podcast and the author of Retire Inspired: It's Not an Age; It's a Financial Number, a #1 national best seller. For more than a decade, Chris has served at Ramsey Solutions as a trusted financial coach and Ramsey Personality. 
In this episode, we learn:
- What you can and cannot control
- Stop asking why
- Success is making an impact
- The power of constantly feeding your mind
- Failures serve us as an opportunity to learn
- Better choices to move forward
- Keeping your eye on the "ball"
- Staying focused on the prize
- How to move forward
- How to be prepared to have retirement options
- Retirement is not the end but the beginning
- Focused on the "heart" retirement desires
- How to attack our debt
- Tell yourself "no" sometimes
- Reaching back and sharing with others
Tips to reach your edge – "Hogan's Triple A" progress formula for focused success with retirement and everything else:
1. Assess
2. Acknowledge
3. Activate
You can follow Chris on Twitter and Instagram at @ChrisHogan360 and online at chrishogan360.com or facebook.com/chrishogan360.
What inspired you from this episode? We would love to hear your thoughts. The road to success starts with one step. Even when you fall down, all it takes is one step to move again towards your dreams and goals.
Thank you for listening to The Executive Edge podcast! Please leave a question so we can address it on the podcast so you can uncover, realize and accomplish your potential!
Music provided by FREESFX
_____________________________________________________________
Linda H. Yates – The Image Energizer is a highly sought Keynote Speaker, Executive Coach and Corporate Trainer. She has produced over 250 educational seminars on helping individuals and businesses uncover, realize and accomplish their goals. Host of The Executive Edge podcast and author of Beyond the Clothes, and the audio course and workbook 6 Steps to ENERGIZE Your Personal Brand, Linda Yates believes that NOTHING is Impossible!