Podcast: Play in new window | Download | Embed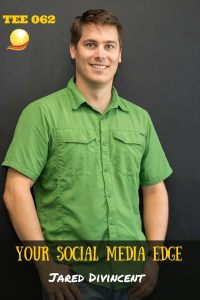 Your social media edge is critical today. In episode 62 Jared DiVincent shares a few tips that you can implement in order to polish up your image.
Jared DiVincent is a Social Media Marketing Consultant and Owner/Founder of SocialCompass – a Digital Marketing Agency in Historic Downtown Brunswick. SocialCompass has worked with a variety of businesses across the U.S., from non-profit to corporate to retail. Although their clients have ranged in size from bloggers to large corporations, their niche is helping small businesses succeed in an ever-changing, fast pace environment using the latest cloud technology available.
As a sales and marketing professional for the past 10 years, Jared's passion is teaching and helping others develop marketing strategies specific to their business by using the latest technologies available. Today Jared will be sharing some of his tips, tricks and marketing secrets to help you and your business stay ahead of the curve.
In this episode, we explore the following:
- Understanding how to disconnect
- History and timing of Social Media
- How to make Social Media work for a business
- Recognizing a need in the community for a business concept
- Listening to your customers
- How to adapt quickly
- Growing with your business idea
- Balancing the demands of business and life
- Everything you put on the internet is public
- Keeping content relevant to your business
- Make the content relevant to the various social networks
Tips to reach your edge:
1. Respect other people's work – credit your source
2. Have a strategy – focus on one network at a time
3. Use Canva for graphic design
To connect further with Jared DiVincent go to Twitter and search @jareddivincent or connect with his company www.SocialCompassMarketing.com.
Your social network image can assist you in achieving your goals. When you implement these tips you will create your own unique edge.
Thank you for listening to The Executive Edge podcast! Please leave a question so we can address it on the podcast so you can uncover, realize and accomplish your potential!
Music provided by FREESFX
_____________________________________________________________
Linda H. Yates – The Image Energizer is a highly sought Keynote Speaker, Executive Coach and Corporate Trainer. She has produced over 250 educational seminars on helping individuals and businesses uncover, realize and accomplish their goals. Host of The Executive Edge podcast and author of Beyond the Clothes, and the audio course and workbook 6 Steps to ENERGIZE Your Personal Brand, Linda Yates believes that NOTHING is Impossible!