Podcast: Play in new window | Download | Embed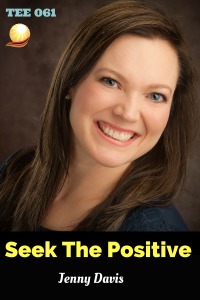 How do you seek the positive when "stuff" happens? What is your first reaction? Is it positive or negative? In episode 61 of the Executive Edge Podcast, Jenny Davis chimes in how she has learned the art to seeking the positive in work situations that arise.
Jenny Davis is the president of The Partner Channel and responsible for the general running of the company as well as serves as the managing editor for The Partner Channel, AXUG, CRMUG, GPUG, and NAVUG magazines. Jenny has been with The Partner Channel since August 2004, has owned the company since May 2010, and loves working with Partners, seeing them at events, and pulling together sales, marketing, and leadership-focused content that can make a positive impact on their organizations. Prior to joining The Partner Channel, Jenny was an Event Manager for Microsoft.
In this episode, we explore the following:
- Turning a scary experience into a positive one
- Looking to create the "easy" button for your clients
- Choosing how to react when things go awry
- Creating boundaries to protect the other parts of your life
- Power of delegating
- How to let go
- Easier to "edit" than start "net new"
- Saving a human life
- Being prepared
Tips to reach your edge:
1. Look for the good in every experience
2. Create value
3. Have passion for what you do
To connect further with Jenny Davis and The Partner Channel go to LinkedIn or Twitter.
You can train yourself to act positively when challenging situations arise. It may take a little practice but it is possible.
Thank you for listening to The Executive Edge podcast! Please leave a question so we can address it on the podcast so you can uncover, realize and accomplish your potential!
Music provided by FREESFX
_____________________________________________________________
Linda H. Yates – The Image Energizer is a highly sought Keynote Speaker, Executive Coach and Corporate Trainer. She has produced over 250 educational seminars on helping individuals and businesses uncover, realize and accomplish their goals. Host of The Executive Edge podcast and author of Beyond the Clothes, and the audio course and workbook 6 Steps to ENERGIZE Your Personal Brand, Linda Yates believes that NOTHING is Impossible!