Podcast: Play in new window | Download | Embed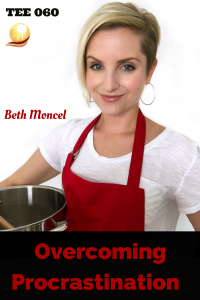 How do you overcome procrastination? What keeps you going when you get tired or overwhelmed? In episode 60 Beth Moncel shares how her life experiences have taught her to keep going and pressing forward.
Beth Moncel is a self-taught cook who specializes in designing delicious, satisfying, and budget friendly recipes. She shares her recipes on her blog, Budget Bytes, along with budget tips and step by step photographs to help new cooks. Beth holds bachelor's degrees in both Nutritional Science and Clinical Laboratory Science, but turned her blogging hobby into a full time career in 2014 and hasn't looked back. She spends her days photographing her delicious creations, connecting with her readers, and enjoying the daily challenges of being a small business owner.
Here are some of the highlights from this episode:
- Learning how to persevere
- How to avoid procrastination
- The benefit of doing the work first
- Learning from past experiences
- Discovering your limitations
- Balancing work and life
- Getting creative when funds are low
- Learning how to blog
- Mixing science and art
- The importance of eating healthy
- How your work can change lives
- How to keep motivated when tired or weary
- Where to get inspiration
Tips for pursuing your passion:
Don't give up before trying
Focus on meeting a need
Learn how to delegate
To connect with Beth Moncel go to www.budgetbytes.com.
Putting the time into your dreams or goals will give you outstanding results. Look to those that inspire you when you get discouraged. Lastly, remember your "why" – as you do so you will be energized to keep moving forward.
Thank you for listening to The Executive Edge podcast! Please leave a question so we can address it on the podcast so you can uncover, realize and accomplish your potential!
Music provided by FREESFX
_____________________________________________________________
Linda H. Yates – The Image Energizer is a highly sought Keynote Speaker, Executive Coach and Corporate Trainer. She has produced over 250 educational seminars on helping individuals and businesses uncover, realize and accomplish their goals. Host of The Executive Edge podcast and author of Beyond the Clothes, and the audio course and workbook 6 Steps to ENERGIZE Your Personal Brand, Linda Yates believes that NOTHING is Impossible!