Podcast: Play in new window | Download | Embed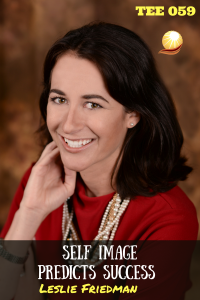 How do you define success? What do you do when a hiccup comes up and changes your plans? Your self-image will predict success every time that occurs. In episode 59 Leslie Friedman shares how self-image has carried her through the changes she wasn't expecting.
Leslie Friedman is an Author, Image Consultant, Communications Expert, and Professional Speaker. She specializes in helping individuals harness the power of personal branding to effectively alter their appearance and actions to guarantee personal and professional success. By integrating both personal branding and image control techniques, Leslie offers a unique, inside-out approach to improving communication and ensuring success in the workplace and at home.
Here are some of the highlights from this episode:
- Going with the flow when challenges come up
- Your edge can change throughout your career
- Being flexible with how your career or business evolves
- Entrepreneurial mindset
- How to grow a business in a smaller market
- Being willing to adapt
- The importance of figuring out who you are and what you want
- How your self image predicts your success
- Consciousness and congruency of your personal brand
- Breaking out of your comfort zone
- Importance of being educated in your field
- The rule of six (days, weeks, months)
Tips for dealing with fear or stress:
1. Make a list
2. Do a power pose
3. Don't act or react immediately
To connect with Leslie Friedman go to: www.Leslie-Friedman.com
Don't let fear or stress stop you from reaching your potential. As you break the barriers that you or someone else puts upon you, you will feel empowered.
Thank you for listening to The Executive Edge podcast! Please leave a question so we can address it on the podcast so you can uncover, realize and accomplish your potential!
Music provided by FREESFX
_____________________________________________________________
Linda H. Yates – The Image Energizer is a highly sought Keynote Speaker, Executive Coach and Corporate Trainer. She has produced over 250 educational seminars on helping individuals and businesses uncover, realize and accomplish their goals. Host of The Executive Edge podcast and author of Beyond the Clothes, and the audio course and workbook 6 Steps to ENERGIZE Your Personal Brand, Linda Yates believes that NOTHING is Impossible!