Podcast: Play in new window | Download | Embed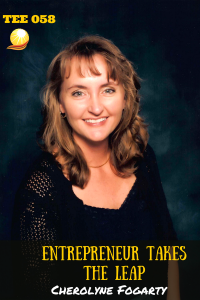 It takes a lot of guts to leave a lucrative career and jump off the ledge to become an entrepreneur. Today on episode 58 of the Executive Edge Podcast, Cherolyne Fogarty shares what her edge has been to make the leap.
Cherolyne Fogarty, President of Walk The Talk Presentations, Inc. was with the Florida Association of Realtors for 18 years. She served as the Director of Education and developed numerous programs on all aspects of real estate. Striving to meet a need in the education arena, in February of 2009, she started her own company, Walk The Talk Presentations. She combines her real-world experience with top-notch speakers and programs to bring affordable solutions to state and local boards of Realtors.
Here are some of the highlights from this episode:
- Importance of taking a break
- Perseverance as an entrepreneur
- Comparing yourself to your performance from an old job
- Keep looking up when it's hard to look out
- Recognizing your value
- Realizing that you can't please everyone all of the time
- It's okay to say no
- Making room in your business for new opportunities
- Determining a good fit
- Transitioning from a corporate job to being an entrepreneur
- How to be nimble as an entrepreneur
- The importance of your support team
- Doing the right things will bring the money
- Balancing family and owning a business
- How to implement strategies from the top global businesses
- Understanding the value, you bring to the table
- Looking ahead to accommodate for growth
Challenges that entrepreneur's face:
a. Failing to plan
b. Recognize where to go for help
c. Asking for help
Tips for being an entrepreneur:
1. Identifying a market
2. Identify your passion
3. Being competent
4. Communicate often
5. Being Customer Service oriented
Suggested reading in order to determine how to create a market that is uniquely yours: Blue Ocean Strategy.
To connect with Cherolyne Fogarty go to: Cherolyne@earthlink.net.
Even if you are not interested in becoming an entrepreneur you will be able to apply the lessons shared in this podcast. You are never alone there are people out there who can help in a variety of ways. Just start seeking and you will find.
Thank you for listening to The Executive Edge podcast! Please leave a question so we can address it on the podcast so you can uncover, realize and accomplish your potential!
Music provided by FREESFX
_____________________________________________________________
Linda H. Yates – The Image Energizer is a highly sought Keynote Speaker, Executive Coach and Corporate Trainer. She has produced over 250 educational seminars on helping individuals and businesses uncover, realize and accomplish their goals. Host of The Executive Edge podcast and author of Beyond the Clothes, and the audio course and workbook 6 Steps to ENERGIZE Your Personal Brand, Linda Yates believes that NOTHING is Impossible!