Podcast: Play in new window | Download | Embed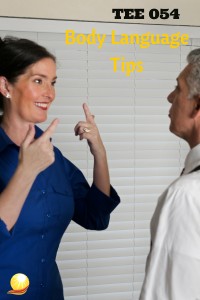 What is your body language saying about you? How do you tell when others are comfortable in your presence? In episode 54 of The Executive Edge Podcast, Linda Yates shares three tips to energize your image through your body language.
Highlights from this episode:
- You are always communicating
- What to do when you are nervous
- How to cheer yourself up when you are down
- The power of open postures
- Building rapport with your audience
- Feeling comfortable when meeting another person
- How to mirror others movements with finesse
- Which part of the body never lies
- How to tell if someone is comfortable in your company
Your body language is always communicating to those you interact with. The way you hold your body can also change your mood. Understanding how to read the body language of others is a skill you can learn.
Be sure to sign up for our FREE eBook: Uncover the Possible – 12 Keys to Success.
Thank you for listening to The Executive Edge podcast! Please leave a question so we can address it on the podcast so you can uncover, realize and accomplish your potential!
Music provided by FREESFX
_____________________________________________________________
Linda H. Yates – The Image Energizer is a highly sought Keynote Speaker, Executive Coach and Corporate Trainer. She has produced over 250 educational seminars on helping individuals and businesses uncover, realize and accomplish their goals. Host of The Executive Edge podcast and author of the audio course and workbook 6 Steps to ENERGIZE Your Personal Brand, Linda Yates believes that NOTHING is Impossible!