Podcast: Play in new window | Download | Embed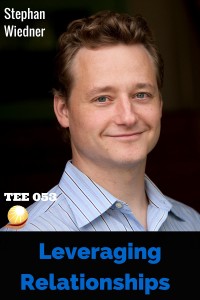 What relationships have helped you reach your goals? In episode 53 of The Executive Edge Podcast Stephan Wiedner shares how leveraging the relationships around us can assist us in accomplishing our goals.
Stephan Wiedner is dedicated to increasing the total tonnage of happiness in the world by spreading coaching to the masses. As a certified a coach (for more than 12 years), he provides accountability for entrepreneurs and free thinkers who want to forge their own unique path. In 2007, Stephan co-founded Noomii.com, the professional coach directory, to help people find their ideal coach. Since then, he has helped generate over 10,000 client leads for coaches while learning the art and science of marketing. Most recently, Stephan launched Purpose360.com, an application to help individuals uncover their life purpose with the help of their friends and family. Stephan is proud to live a location independent lifestyle, working from wifi enabled coffee shops, eating lunch with his wife and kids, all the while exploring different countries and cultures.
Here are some of the highlights from this episode:
- Keeping a positive attitude when bad things happen
- Maintaining balance between work and family
- Being present in the moment
- How spending time with family can be re-energizing
- Staying motivated in achieving your goals
- Remembering to be persistent
- Overcoming impatience
- Leveraging relationships to win
- Networking with like-minded individuals
- Help from a neutral party
- Independence can limit your opportunities
- Mindset is critical to realizing your potential
- Staying humble at all times
To connect with Stephan Wiedner goto www.Noomii.com and email support@noomii.com.
No man or woman is an island. It is through others that we can accomplish our goals and realize our dreams. Your relationships are key to your growth.
Thank you for listening to The Executive Edge podcast! Please leave a question so we can address it on the podcast so you can uncover, realize and accomplish your potential!
Music provided by FREESFX
_____________________________________________________________
Linda H. Yates – The Image Energizer is a highly sought Keynote Speaker, Executive Coach and Corporate Trainer. She has produced over 250 educational seminars on helping individuals and businesses uncover, realize and accomplish their goals. Host of The Executive Edge podcast and author of the audio course and workbook 6 Steps to ENERGIZE Your Personal Brand, Linda Yates believes that NOTHING is Impossible!