Podcast: Play in new window | Download | Embed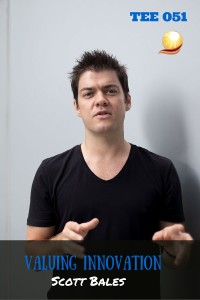 How has innovation impacted you? Scott Bales author of Innovation Wars shares how embracing and valuing innovation has been his edge to success in episode 51 of The Executive Edge podcast.
A technology & innovation guru, Scott Bales is a global leader in the cutting-edge arena known as "The Digital Shift", encompassing innovation, culture, design, and mobility in a world gone digital. As a thought leader, Scott thrives on the intersection between cultural and behavioral changes in the face of technology advancement. In his most recent career whirlwind as Founder of Metlife's Innovation Centre, a regional first. Scott, a self-proclaimed extrovert, successfully meshes his fascination with people and what motivates them, with a raw enthusiasm for innovation. A pattern that has seen him lead multiple corporate spin-outs, acquisitions and corporate startup collaborations.
In episode 51 of The Executive Edge we learned:
- Innovation in Cambodia
- Power of Facebook
- Living by your values
- Being true to yourself
- Courage to share your perspective
- Refining your soft skills
- Staying externally focused
- Cultivating empathy
- The purpose of asking why
- Solving complex problems
Tips:
1. Stay curious and hungry
2. Collaborate
3. Do what you love
To connect with Scott Bales go to www.ScottEBales.com and https://espressocyclist.com. Check out his new book Innovation Wars.
The world is always changing. Keep asking why and push the status quo. Embracing change will keep life fascinating and success in your reach.
Thank you for listening to The Executive Edge podcast! Please leave a question so we can address it on the podcast so you can uncover, realize and accomplish your potential!
Music provided by FREESFX
_____________________________________________________________
Linda H. Yates – The Image Energizer is a highly sought Keynote Speaker, Executive Coach and Corporate Trainer. She has produced over 250 educational seminars on helping individuals and businesses uncover, realize and accomplish their goals. Host of The Executive Edge podcast and author of the audio course and workbook 6 Steps to ENERGIZE Your Personal Brand, Linda Yates believes that NOTHING is Impossible!