Podcast: Play in new window | Download | Embed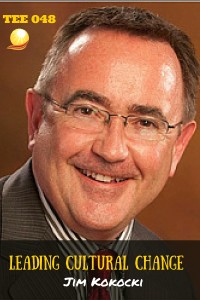 Have you ever tried to create a cultural change? Have you ever needed to make a change in your life or business? Today's guest on episode 48 of the Executive Edge podcast is Jim Kokocki, past International President of Toastmasters International. Jim shares how leading change and embracing change can be accomplished and fulfilling.
Jim Kokocki, DTM, is an entrepreneur and business consultant residing in Saint John, New Brunswick, Canada. As a volunteer, he is a member of the board at L'Arche Saint John, part of a worldwide network of communities for people with intellectual disabilities. He also serves as Director of Business Development for Mudge Engineering Associates. Kokocki previously worked at telecommunications provider Bell Aliant and its related companies for 30 years. He recently completed a master's degree in business administration at the University of New Brunswick, Saint John.
Kokocki has also worked with other volunteer organizations, including the Saint John Board of Trade where he served as co-chair of its Business Education Committee. For other organizations, he delivers presentations on leadership, protecting self-esteem, managing conflict, business modeling, and public relations and marketing.
A dedicated Toastmaster for 27 years, Kokocki served on the Board of Directors from 2002 to 2004. In addition to having held a number of high-profile leadership positions within Toastmasters, Kokocki also attained the Distinguished Toastmaster designation—the highest level of achievement in the organization.
"Over the years, I've met many people who tell me that their Toastmasters membership enabled them to hone skills that were important to their success personally and professionally. I look forward to serving and leading the organization's efforts to extend our reach and provide communication and leadership skills to even more people around the world," he says.
As International President, Kokocki is a "working ambassador" for the organization. He works with the Board to develop, support and modify the policies and procedures that guide the organization in fulfilling its mission.
In episode 48 of The Executive Edge we learned:
- The ability to communicate goals and ambition leads to success
- Changing cultures in developing teams
- Leading diverse teams
- How to connect with others that are different from us
- Acknowledge when we see difficulties – addressing the "elephant in the room"
- Identifying steps to move a project along
- Recognize the behaviors that will make you successful
- Celebrating wins
- Celebrating others successes
- Strategic plan benefits
- Communicating your objectives to your team
- Communicating your objectives to the public
- What drives others
- Motivation theories
To connect with Jim Kokocki, go to LinkedIn or Twitter and search on his name.
Before Jim joined Toastmasters International he described himself as a shy, awkward computer programmer. He is definitely no longer shy and awkward but a leader making positive changes. How would you describe yourself? Perhaps Toastmasters International can help you achieve your goals and dreams. I would encourage you to check it out. www.Toastmasters.org
Thank you for listening to The Executive Edge podcast! Please leave a question so we can address it on the podcast so you can uncover, realize and accomplish your potential!
Music provided by FREESFX
_____________________________________________________________
Linda H. Yates – The Image Energizer is a highly sought Keynote Speaker, Executive Coach and Corporate Trainer. She has produced over 250 educational seminars on helping individuals and businesses uncover, realize and accomplish their goals. Host of The Executive Edge podcast and author of the audio course and workbook 6 Steps to ENERGIZE Your Personal Brand, Linda Yates believes that NOTHING is Impossible!