Podcast: Play in new window | Download | Embed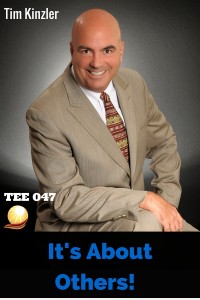 Have you ever met someone who made you feel good or empowered? Today's guest, Tim Kinzler, shares how his edge is remembering, "it's about others." When you focus on others you are able to achieve your goals.
Tim Kinzler has served as the CEO/Team Leader for Keller Williams Realty International Boca Raton since 2011. He leads 225 real estate business partners selling $250,000,000 per year. Keller Williams Realty Boca Raton experienced an 80% owners profit in 2015 which led to a profit sharing opportunity of 105% to all business partners. Tim has been responsible for the growth in the office from 48 agents to 225 in four and a half years. He serves on the Keller Williams International Realty Association Leadership Council representing the South Florida region. He was past President of the Realtor association of the Palm Beaches with over 8,000 members.
Throughout his 35-year real estate career Tim has received several awards. Two-time recipient of the Realtor Associate of the year for the Florida Realtor Association comprised of 130,000 members. As well as three time recipient as the Realtor of the Year for the Palm Beaches. Currently he serves on the Executive Committee for the Florida Realtors, which oversees a $20,000,000 budget. Some of Tim's interest includes: boats, beaches, photography, technology and fitness.
In episode 47 of The Executive Edge we learned:
- Focusing on others opens doors to success and fulfillment
- How to identify "blind spots"
- How to interact with difficult people
- The importance of coaches
- Seek first to understand
- How lead generation is the key to growing a business
- How purpose, priorities and productivity lead to success and profitability
- The blessing of paying it forward
- There is no try – just do
- Do the right thing
- There doesn't have to be a loser
- Success is through people not around them
- Take your goals and 10X them
To connect with Tim, email him at timothykinzler@gmail.com or @timkinzler or 561-573-0557.
Thank you for listening to The Executive Edge podcast! Please leave a question so we can address it on the podcast so you can uncover, realize and accomplish your potential!
Music provided by FREESFX
_____________________________________________________________
Linda H. Yates – The Image Energizer is a highly sought Keynote Speaker, Executive Coach and Corporate Trainer. She has produced over 250 educational seminars on helping individuals and businesses uncover, realize and accomplish their goals. Host of The Executive Edge podcast and author of the audio course and workbook 6 Steps to ENERGIZE Your Personal Brand, Linda Yates believes that NOTHING is Impossible!