Podcast: Play in new window | Download | Embed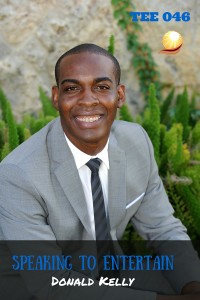 Have you ever listened to a boring speaker? Speaking to entertain is the goal of polished speakers. In episode 46 of The Executive Edge podcast, speaker Donald Kelly shares his edge on how he entertains as he speaks.
Highlights of this episode:
- Find a coach to assist you in polishing your message
- Share your voice
- Pick your message
- Combining education with entertainment
- Relating to your audience
- Don't force it
- Live without regrets
- Look for inspiration
Donald also shares with us his biggest challenge in speaking and who inspires him to reach his potential.
To connect with Donald Kelly, The Sales Evangelist goto:
http://thesalesevangelist.com/lindayates for a FREE 30 minute call. His gift to you!
Being entertaining while speaking is possible. Tapping into your own unique voice is the first step.
Thank you for listening to The Executive Edge podcast! Please leave a question so we can address it on the podcast so you can uncover, realize and accomplish your potential!
Music provided by FREESFX
_____________________________________________________________
Linda H. Yates – The Image Energizer is a highly sought Keynote Speaker, Executive Coach and Corporate Trainer. She has produced over 250 educational seminars on helping individuals and businesses uncover, realize and accomplish their goals. Host of The Executive Edge podcast and author of the audio course and workbook 6 Steps to ENERGIZE Your Personal Brand, Linda Yates believes that NOTHING is Impossible!