Podcast: Play in new window | Download | Embed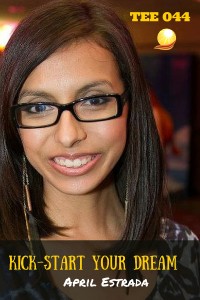 Do you have a dream or an idea you think is impossible? On episode 44 of The Executive Edge podcast April Estrada shares how an idea to innovate has been the kick-start to her dreams.
April Estrada is Co-Founder and Product Manager for The Undress, Inc. With a background in Visual Arts Media and minor in Psychology from University California San Diego, she has helped the vision of The Undress come to life. She and her family have personally worked on everything The Undress – from choosing the best material and print pattern to cutting and sewing every stitch of the dress, they've done it all!
She's also been a part of a start-up video production company, founded by The Undress co-founder, Dennis Caco, called Tekno Vikings. April worked as a videographer, scriptwriter, editor and director. She also served as the Fashion Show Coordinator for The Hammer Festival, sparking her interest in an active lifestyle and with active lifestyle brands.
The Undress is innovation that solves a problem for women to change their clothes after doing a workout in a modest way. They were highlighted on Good Morning America and won the Fashion Face Off section with Daymond John from Shark Tank as the judge.
The Undress raised enough money for 8,000 dresses through their kick-start campaign on www.Kickstarter.com.
April loves being an entrepreneur!
Highlights from this episode:
- Being open and willing to taking a risk
- Learning to trust yourself
- Learning to trust those around you
- Keeping your eye on your goals
- Stopping to have fun
Tips:
1. Communicate throughout the process
2. Be open to new ideas and opportunities
3. Being flexible
4. Being adaptable
5. Take care of yourself
6. Self-improvement
To connect with April or checkout The Undress go to: – The Undress Version 2 – SPORT or www.undress.com. You can also connect with them on Facebook.
Thank you for listening to The Executive Edge podcast! Please leave a question so we can address it on the podcast so you can uncover, realize and accomplish your potential!
Music provided by FREESFX
_____________________________________________________________
Linda H. Yates – The Image Energizer is a highly-sought Keynote Speaker, Executive Coach and Corporate Trainer. She has produced over 250 educational seminars on helping individuals and businesses uncover, realize and accomplish their goals. Host of The Executive Edge podcast and author of the audio course and workbook 6 Steps to ENERGIZE Your Personal Brand, and Beyond the Clothes, Linda Yates believes that NOTHING is Impossible!