Podcast: Play in new window | Download | Embed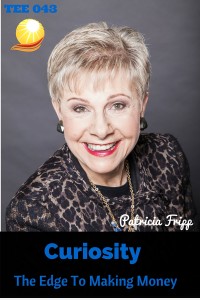 Have you ever heard the saying that "curiosity killed the cat?" In episode 43 of The Executive Edge podcast world-renowned keynote speaker Patricia Fripp shares how you can make money and build your career through curiosity.
Patricia Fripp is a Hall of Fame keynote speaker, sales presentation expert, and executive speech coach. Named "One of the 10 most electrifying speakers in North America" by Meetings and Conventions magazine, Patricia delivers high-content, entertaining, dramatically memorable presentations.
She arrived in San Francisco from England at age 20 as a hairstylist with no job or contacts and little money. Patricia excelled in the beauty industry and became San Francisco's most in-demand men's hairstylist when that was a new domain. She started training stylists and speaking to promote her business, which led into her next successful career as a keynote speaker. On 60 Minutes she was asked, "There must be a big difference between being a hairstylist and a speaker?" She replied, "I used to work on the outside of heads; now I work on the inside. There is only a half inch difference." That half-inch has been worth millions of dollars!
Patricia is a past president, and the first female president, of the over 3,000-member National Speakers Association. She is a member of the highly prestigious Speakers Roundtable, an invitation-only group of highly regarded professional speakers, authors, and consultants.
Patricia often teams up with her brother, legendary guitarist of King Crimson, Robert Fripp, for Fripp and Fripp presentations on "How to Be a Hero for More Than One Day" and "Beginner to Master."
She is the author of Make It So You Don't Have to Fake It! And Get What You Want! and co-author of Speaker's Edge, Speaking Secrets of the Masters and Insights Into Excellence.
Patricia is now virtually everywhere with FrippVT.com, her interactive, learn-at-your-own-pace, virtual presentation skills training.
Highlights from this episode:
- Stories can make or break you as a speaker
- It's ok if one of your audience members is funnier than you are
- Be disciplined
- Avoid the shiny objects
- Saying no to distractions
- Being focused
- Being realistic
- Make a plan for long-term goals
- Be genuine
- Stay interested and ask more questions
- Take advantage of opportunities
Challenge:
1. Time management Tips
2. Paying the bills – pay them all
3. Batch activities and tasks
Clients will tell you how they want to engage you.
Listen to what your clients are asking for and they can drive your business to be more profitable.
Asking powerful questions – "What do you mean?"
Adding specificity to your questions
Executive wants to drive commitment and action tips:
1. What is the big idea in your presentation – one sentence?
2. State it strongly in the beginning
3. Share stories – person behind the position
4. Conversational style
5. Give your supporting points
We can each make the most of the talents or edge we have been blessed with. Everyday have interesting conversations with interesting people. You will see money and abundance come flowing into your world. Curiosity can be your edge to success.
To connect with Patricia – Text FRIPP29600 or pfripp@fripp.com, www.FrippVT.com and www.fripp.com
Thank you for listening to The Executive Edge podcast! Please leave a question so we can address it on the podcast so you can uncover, realize and accomplish your potential!
Music provided by FREESFX
_____________________________________________________________
Linda H. Yates – The Image Energizer is a highly sought Keynote Speaker, Executive Coach and Corporate Trainer. She has produced over 250 educational seminars on helping individuals and businesses uncover, realize and accomplish their goals. Host of The Executive Edge podcast and author of the audio course and workbook 6 Steps to ENERGIZE Your Personal Brand, Linda Yates believes that NOTHING is Impossible!