Podcast: Play in new window | Download | Embed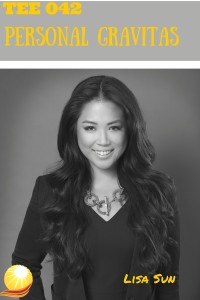 The definition of gravitas is: more of your best self/best version of yourself. In episode 42 Lisa Sun joins us to explore how your personal gravitas is the key to open every door.
For Founder & CEO Lisa Sun, a lifetime of professional achievements and personal passions pointed in one direction: to the founding of Project Gravitas. A culmination of her love of fashion, career in the luxury lifestyle business, and steadfast commitment to helping others succeed, Project Gravitas was, to Lisa, simply inevitable.
Lisa spent 11 years at McKinsey & Company where she advised leading luxury, fashion, and beauty brands and retailers in the US, Asia, Europe, and Latin America on strategic and operational issues. Considered the firm's top expert in the luxury and fashion space, Lisa published perspectives and delivered keynote speeches at forums such as the American Express Luxury Summit. In many ways, Lisa "grew up" at McKinsey, being mentored by the firm's best thinkers, learning from top executives, and having the privilege of leading teams of talented colleagues around the world.
Lisa has always had a passion for style and for helping people look and feel their best. Lisa has been a size 22, a size 8, and now proudly a size 12. At every size and age, she has found creative ways to show off her style; Lisa was named one of Washingtonian Magazine's Best Dressed Women. Through Project Gravitas, she hopes to help women create lasting impact.
Lisa received degrees in Biology and Political Science with Distinction from Yale University, where she graduated Magna Cum Laude and Phi Beta Kappa.
Highlights:
- Feeling confident on the road when you feel naked
- How confidence comes from within
- Ingredients to success:
Humble and grateful student
Bold vision with the will to execute
Compassionate coach
- Mentors choose you
- Hiring people more talented than you
- Embracing your insecurities – owning and working with them
- Moving forward after receiving harsh feedback
- Feeling confident in what you wear
- "Love Notes"
Lifetime Tip:
See something good when you look in the mirror each day. Then you will take that confidence with you throughout the day.
Tips for succeeding professionally:
a. Customer is at the center of every service activity
b. Taking ownership – use the opportunity to learn
Gravitas is admitting something is wrong and finding a way to fix it.
The woman/man makes the clothes!
Everyday Tips:
- Pause button – need to hit it more often
- Embrace mistakes
- Give genuine positive validation
To connect with Project Gravitas go to www.projectgravitas.com or @projectgravitas on Twitter and Instagram.
Thank you for listening to The Executive Edge podcast! Please leave a question so we can address it on the podcast so you can uncover, realize and accomplish your potential!
Music provided by FREESFX
_____________________________________________________________
Linda H. Yates – The Image Energizer is a highly sought Keynote Speaker, Executive Coach and Corporate Trainer. She has produced over 250 educational seminars on helping individuals and businesses uncover, realize and accomplish their goals. Host of The Executive Edge podcast and author of the audio course and workbook 6 Steps to ENERGIZE Your Personal Brand, Linda Yates believes that NOTHING is Impossible!