Podcast: Play in new window | Download | Embed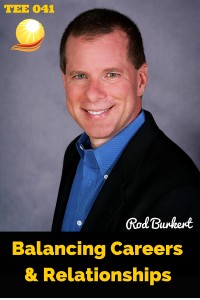 It can be easy to let our relationships fall by the wayside as we strive to reach success in our careers. In episode 41 of The Executive Edge podcast Rod Burkert shares that his edge is his relationship with his wife.
Rod is the founder of Burkert Valuation Advisors. His assignments focus on income/gift/estate tax matters, specializing in private companies and investment partnerships.
Rod is also the co-founder of Practice Builder Academy, a 12-month mentoring program that teaches Business Valuation, Forensic Accounting and Litigation Support professionals' strategies to build their practices and re-design their lives.
Rod has leveraged social media to build a mobile consulting practice, which allows him to travel full time in an RV throughout the United States and Canada with his wife and two dogs.
Highlights from this episode:
- Look for ways to be different
- The edge to success can change throughout your life and/or career
- His wife has been his edge for the last 15 years
- How to make business and life work
- Tools and confidence are needed to achieve success
- Success doesn't happen overnight
- The key to success is to stay the course
- Choosing uncertainty over unhappiness
- Being different can be a blessing in all aspects of life
- One year of experience repeated 10 times
- How to get the work you desire
- Born Standing Up by Steve Martin
- Imagine your worse case scenario
Challenges that can be overcome:
1. Breaking out of your comfort zone
2. Living without regrets
3. Not being limited by your personal nature
Mistakes that we should watch out for:
a. We don't listen to ourselves – not listening to our gut
b. Buying into other's opinions rather than our own
c. Trying to copy other's style
d. Reluctant to take risks
To connect with Rod – go to LinkedIn or @rodburkert on Twitter; rod@practicebuilderacademy.com
What can you do today to build your relationships? When we work on our relationships our lives and careers improve.
Thank you for listening to The Executive Edge podcast! Please leave a question so we can address it on the podcast so you can uncover, realize and accomplish your potential!
Music provided by FREESFX
_____________________________________________________________
Linda H. Yates – The Image Energizer is a highly sought Keynote Speaker, Executive Coach and Corporate Trainer. She has produced over 250 educational seminars on helping individuals and businesses uncover, realize and accomplish their goals. Host of The Executive Edge podcast and author of the audio course and workbook 6 Steps to ENERGIZE Your Personal Brand, Linda Yates believes that NOTHING is Impossible!