Podcast: Play in new window | Download | Embed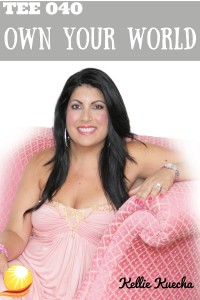 Have you ever felt like giving up? Have you ever doubted your ability to accomplish your goals? In episode 40 of The Executive Edge podcast Kellie Kuecha shares how you can own your world today to achieve your dreams and reach your potential tomorrow.
Kellie Kuecha is known as the Brand Re-coder. She blazes a trail for her clients by utilizing her proprietary methods of decoding 82 different facets and recodes them into a highly recognizable and undeniably unique brand that combines their expertise with their Soul Gravity. Charged with her superior street-smart-savvy, intuitive nature and extensive expertise, the Brand Re-coder is well programmed to take an unknown entrepreneur from Obscurity to Brand Omnipresence.
Her journey into entrepreneurship began at the ripe age of 12 and she has been building businesses ever since. She has defied all the odds both in life and in business and has mastered the ability to turn adversities into advantages. She has coached tens of thousands of women worldwide and her branding strategies have landed several of her clients on the NY Times Bestsellers list. She has a long list of mega client success stories from politicians and coaches to stay at mom homes and multi-level marketers! She is here today to teach you how to own your world!
Takeaways:
-       Who you are never changes
-       When you are the brand there is no competition
-       No one has traveled the path you have traveled
-       No one can compete with the essence that you are
-       Easier way to make money
Challenges
-       Feeling invisible
-       Feeling different
-       Living in fear
-       Peace comes from within
Tips for all of us:
1. Challenges can give us strength
2. Importance of mentors and coaches
3. Don't give up too soon!
4. Establish an identity
5. Be consistent
6. See it to the end
7. Show up in a personal way
8. Own your value – carve a niche all your own
To connect with Kellie go to Facebook: kelliekuecha@facebook.com Or www.BrandOmnipresence.com
Thank you for listening to The Executive Edge podcast! Please leave a question so we can address it on the podcast so you can uncover, realize and accomplish your potential!
Music provided by FREESFX
_____________________________________________________________
Linda H. Yates – The Image Energizer is a highly sought Keynote Speaker, Executive Coach and Corporate Trainer. She has produced over 250 educational seminars on helping individuals and businesses uncover, realize and accomplish their goals. Host of The Executive Edge podcast and author of the audio course and workbook 6 Steps to ENERGIZE Your Personal Brand, Linda Yates believes that NOTHING is Impossible!