Podcast: Play in new window | Download | Embed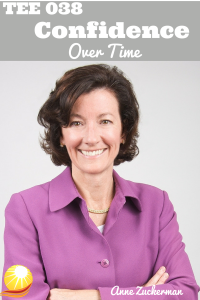 Have you ever lacked confidence? Would you like to be able to stand up for yourself when someone is trying to intimidate you? In episode 38 of The Executive Edge Anne Zuckerman shares her edge to success through confidence.
Anne Zuckerman has been a practicing attorney since 1986. Anne currently practices a broad range of business law at the Law Offices of Anne Dufour Zuckerman P.A., a firm she founded in December 2012. Prior to that, Anne served as General Counsel at Imperial Finance & Trading LLC and Associate General Counsel, Business Law, at Office Depot, Inc., both located in Boca Raton, Florida.
Anne was previously a partner specializing in commercial litigation with the law firm of Lewis Babcock, LLP, in Columbia, South Carolina; an attorney specializing in commercial litigation with Verrill Dana, LLP, in Portland, Maine; an attorney with the Division of Enforcement of the U.S. Securities and Exchange Commission in Washington, D.C; and an Assistant Attorney General for the State of Connecticut.
Anne is active in her community serving as an Ambassador and outside general counsel for the Office Depot Foundation. Anne is also a mentor with Women of Tomorrow providing mentoring services for local high school students. In addition, Anne is a member of the Palm Beach County Bar Association, the South Palm Beach County Florida Association of Women Lawyers, the American Business Women's Association, the Women's Executive Club and the Boca Raton Chamber of Commerce.
Anne resides in Boca Raton with her husband and their 3 sons where they have lived since 1999.
Highlights:
- Shares how to keep your composure in an embarrassing situation
- How to feel confident when feeling intimidated
- Not letting nervousness show on the outside
- Being true to yourself
- Believing in yourself – knowing your facts
- Navigating the challenges of negotiation
- Success doesn't happen overnight
- Look at where you are right now and make adjustments
- Reinventing yourself while navigating life changes
Biggest mistakes business owners and entrepreneurs make:
Not being proactive when it comes to protecting their business interests.
Realizing it's more expensive to fix problems than being proactive in the beginning.
Contracts – how they can be a blessing or a curse.
Negotiation Tips:
1. Never underestimate yourself
2. Rehearse your negotiation – be prepared
To connect with Anne email her at anne@annezuckermanlaw.com or visit her website at www.annezuckermanlaw.com.
Thank you for listening to The Executive Edge podcast! Please leave a question so we can address it on the podcast so you can uncover, realize and accomplish your potential!
Music provided by FREESFX
_____________________________________________________________
Linda H. Yates – The Image Energizer is a highly sought Keynote Speaker, Executive Coach and Corporate Trainer. She has produced over 250 educational seminars on helping individuals and businesses uncover, realize and accomplish their goals. Host of The Executive Edge podcast and author of the audio course and workbook 6 Steps to ENERGIZE Your Personal Brand, Linda Yates believes that NOTHING is Impossible!