Podcast: Play in new window | Download | Embed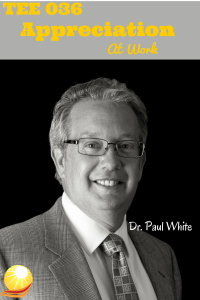 Have you ever felt appreciation in the workplace? Hopefully the answer is yes! In episode 36 of The Executive Edge podcast Dr. Paul White joins us and shares his insight on how appreciation is an edge. Dr. Paul White is a psychologist, author, speaker, and consultant who makes work relationships work. He has written articles for and been interviewed by Bloomberg's Business Week, CNN/Fortune.com, Entrepreneur.com, Fast Company, FoxBusiness.com, Huffington Post LIVE, U.S. News and World Report, and Yahoo! Finance.
As a speaker and trainer, Dr. White has taught around the world, including North America, Europe, South America, Asia, and the Caribbean. He is the coauthor of three books including, The 5 Languages of Appreciation in the Workplace, written with Dr. Gary Chapman (author of the #1 NY Times bestseller, The 5 Love Languages).
Dr. White, Dr. Chapman, along with coauthor, Harold Myra, have recently released Rising Above a Toxic Workplace – Taking Care of Yourself in an Unhealthy Environment, and a fable based on the 5 languages of appreciation entitled Sync or Swim – A fable about workplace communication and coming together in a crisis.
For the past 20 years, Dr. White has improved numerous businesses, government agencies and non-profit organizations by helping them:
• Reduce the level of cynicism and negative communication within the workplace.
• Eliminate supervisors' frustration from not knowing how to effectively encourage their staff.
• Learn how to communicate authentic appreciation (versus "go through the motions" recognition).
Dr. White graduated Magna Cum Laude from Wheaton College (IL), earned his Masters of Counseling from Arizona State University, and received his Ph.D. in Counseling Psychology from Georgia State University. He has been married for over 30 years and is the father of four adult children. He relaxes by fishing, enjoying nature, and watching college basketball.
Highlights:
- Looking for needs in the marketplace that are not being met
- Know your costs
- Hire well
- Train well
- Family relations can impact the success of your life and/or business
- How to pick up after a family business failed
- Keeping communication lines open
- Don't put all your eggs in one basket
- The owner vs. the employee
- Persisting after your dreams
- Authenticity is the key to adoption
- How to feel empowered in the workplace
- Build margins in your life
We all interpret appreciation in different ways. People are important. To learn more about Dr. White visit: www.DrPaulWhite.com.
Thank you for listening to The Executive Edge podcast! Please leave a question so we can address it on the podcast so you can uncover, realize and accomplish your potential!
Music provided by FREESFX
_____________________________________________________________
Linda H. Yates – The Image Energizer is a highly sought Keynote Speaker, Executive Coach and Corporate Trainer. She has produced over 250 educational seminars on helping individuals and businesses uncover, realize and accomplish their goals. Host of The Executive Edge podcast and author of the audio course and workbook 6 Steps to ENERGIZE Your Personal Brand, Linda Yates believes that NOTHING is Impossible!