Podcast: Play in new window | Download | Embed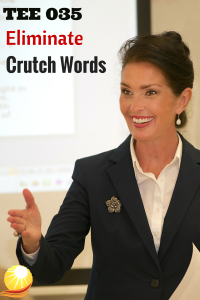 Have you ever noticed how politicians use crutch words? In episode 35 of The Executive Edge Podcast – Linda Yates will share how you can eliminate crutch words in your presentations and every day speech. Crutch words are also referred to as filler words or verbal tics.
Some of the highlights from this episode are:
- What are crutch words?
- How to recognize what words to eliminate
- Why it's important to get rid of filler words
- Confident speaking increases your ability to lead
- Political candidates who have struggled with crutch words
- How we start picking up other's crutch words
- Tips on how to change
- How to ask for feedback
- How to connect and build rapport with your words
- Resources to use
You can deliver polished presentations! All it takes is recognizing how to eliminate crutch words.
Thank you for listening to The Executive Edge podcast! Please leave a question so we can address it on the podcast so you can uncover, realize and accomplish your potential!
Here's some tools to assist you in giving a speech or presentation. Be sure to sign up for our free newsletter, buy our audio course on energizing your personal brand or let us know how we can work together in 2015 with an email to Linda@LHYatesConsulting.com.
Music provided by FREESFX
—————————————————————————————————
Linda H. Yates – The Image Energizer is a highly sought Keynote Speaker, Executive Coach and Corporate Trainer. She has produced over 250 educational seminars on helping individuals and businesses uncover, realize and accomplish their goals. Host of The Executive Edge podcast and author of the audio course and workbook 6 Steps to ENERGIZE Your Personal Brand, Linda Yates believes that NOTHING is Impossible!