Podcast: Play in new window | Download | Embed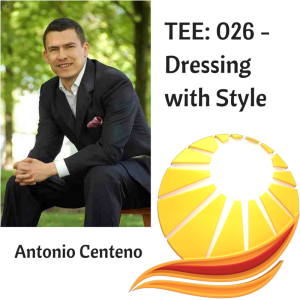 In episode 26 on The Executive Edge Antonio Centeno shares how dressing with style is an edge to achieving success.
Antonio Centeno is the founder of www.RealMenRealStyle.com and www.ATailoredSuit.com. He has created over 1000 articles & videos on men's style. He blogs at www.ArtofManliness.com, and is the creator of the internet's best style course for professionals – A Man's Guide To Style.
Antonio has studied clothing design in London, Hong Kong, and Bangkok. He is a former United States Marine with an MBA from University of Texas Austin and a Bachelor of Arts from Cornell College. He loves to hear from old friends and make new ones.
I found the videos that Antonio puts out and started following his blog. He shares great insight on dressing with style. Style doesn't have to break the bank. Dressing with style is one of the ways to tap into your edge to achieve success.
Highlights from this episode:
- Begin with the end in mind
- How style impacts our ability to succeed
- Importance of visuals and your ability to connect
- Man or woman behind the clothes
- The power of putting your best foot forward
- 3 tips to energize your image
- Purpose of different clothing items
- Style doesn't have to be expensive
- Breaking stereotypes
- How paying it forward brings joy
- How to pick yourself up from disappointment
- How to keep your priorities straight
- How to set up systems to highlight your strengths
To connect with Antonio and learn more about his programs goto: www.RealMenRealStyle.com and fill out his contact form.
Thank you for listening to The Executive Edge podcast! Please leave a question so that we can address it on the podcast so that you can uncover, realize and accomplish your potential! Nothing is impossible!
Sign up for our image and success tips on www.LindaHYates.com.
Music provided by FREESFX