Podcast: Play in new window | Download | Embed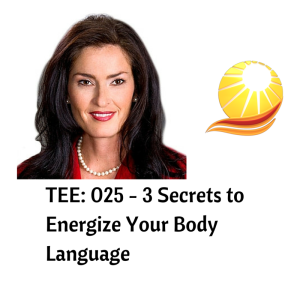 Wow, this is episode 25! In this episode we will cover 3 secrets to energize your body language. Since I have the opportunity of speaking all throughout the world on this topic I thought you, my amazing listeners, would benefit. Let me know in the comments below what you liked. 93% of the way you communicate is through your non verbal communication.
It is through our body language that we can communicate the most effectively. Energizing our body language will open up our opportunities. Our body language transmits to the outside world but more importantly to our inside world.
1. The feet never lie.
2. Your posture is your secret weapon.
3. Making and keeping eye contact is the pathway to opportunities.
These three points will assist you in appearing and feeling more confident. In this episode I share how to get those you are meeting or negotiating with to open up to your ideas and influence. The goal is that you have win/win experiences in all your interactions.
Take time to notice today other's body language and think about what it is saying to you. Then take the challenge to evaluate your own body language in the various experiences you have throughout the day.
Please share this episode with any and all you feel will benefit.
Thank you for listening to The Executive Edge podcast! Please leave a question so that we can address it on the podcast so that you can uncover, realize and accomplish your potential! Nothing is impossible!
Sign up for our image and success tips on www.LindaHYates.com.