Podcast: Play in new window | Download | Embed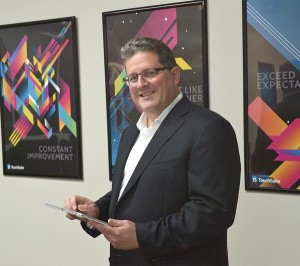 As a entrepreneur it is critical to understand what the principles to success are and how to achieve them. This episode features a successful entrepreneur who teaches, practices and mentors others on tapping into their edge.
Sam Zietz is the founder and CEO of the financial technology company TouchSuite® and its affiliated companies. Since its inception in 2003, the company has been the recipient of numerous awards and accolades, including the esteemed Inc. Magazine's "Inc. 500" list of the fastest growing private companies in America – with 2014 marking its sixth time on the prestigious list.
TouchSuite was also recently named the #1 Fastest Growing Company in South Florida by the South Florida Business Journal, and fastest growing technology company in the state by the compilation of The Business Journals' various Florida publications.
Sam sits on the executive board of the Palm Beach chapter of the Young Presidents Organization (YPO) and is on the executive board of the South Florida chapter of the Entrepreneur's Organization (EO). He is also a member of the Orange Bowl Committee. A regular guest speaker at universities, Sam is extremely devoted to supporting young entrepreneurs and serves as a mentor to budding businessmen and women. He is also an active angel investor with a number of investments under management. Prior to entering the merchant processing industry, Zietz was a corporate attorney specializing in structured finance with the New York-based law firm Skadden, Arps, Slate, Meagher and Flom, LLP.
Prior to Skadden, he worked in the business tax planning department at PricewaterhouseCoopers. Sam Zietz earned a LLM in taxation from New York University School of Law, and received his JD from St. Thomas University School of Law in Miami, where he graduated first in his class. Zietz earned his Bachelor of Science degree from the University of Michigan.
Besides his passion for innovation and entrepreneurship his personal passion is his children, ages 14, 13 and 8, watching and coaching them in sports such as lacrosse and football. He currently lives in Boca Raton, FL with his children and his wife, Sheila.
What we learned from this podcast:
- Hire top talent
- Putting people in the right position
- Getting experience
- Entrepreneurial culture
- Laser focus
- The benefit of hard work
- How applying core values and principles can guide your decisions to success
TouchSuite is one of America's leading technology companies focused on the electronic payment space. Its award-winning, patented point of sale systems are fully integrated with payment processing and credit card services catering to restaurants, salons and spas. The systems are designed to help small- and medium-size merchants increase revenue by using the provided tools and solutions.
For more information goto www.touchsuite.com or reach out to Sam at szietz@touchsuite.com.
Thank you for listening to The Executive Edge podcast! Please share your thoughts, comments and topics you would like covered in the comment section below.
Sign up for our FREE newsletter @ www.LindaHYates.com