Podcast: Play in new window | Download | Embed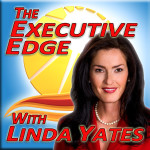 This week is a little different… I had the opportunity of being interviewed by The Sales Evangelist – Donald Kelly some time ago. The topic: How your Image can increase your sales.
This is episode number 009 and here are some of the highlights:
- What to wear when
- How what you wear can increase your performance and productivity
- How clothes can alter your mindset
- Your image is your brand
- The importance of image in sales
- How fit can make you look like a million bucks
Your image is your personal brand. If you want to increase your sales and take home pay then you will benefit from this podcast.
What an honor it was to be interviewed by Donald Kelly – www.thesalesevangelist.com. If you are interested in energizing your image – please fill out our contact us form.
Thank you for listening to The Executive Edge! Please sign up for our image tips and/or FREE monthly newsletter.
Have a wonderful week!