Podcast: Play in new window | Download | Embed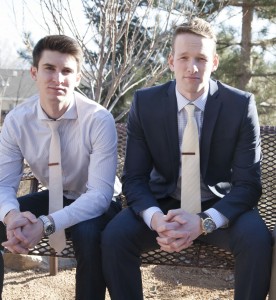 In episode 7 two-college students Lucas Brook and Taylor Yates had an idea that they could make a difference in the world. The idea started from the purchase of "funky socks."
Lucas Brook a business strategist, political science/economics student, avid skier, and unofficial ethics coach.
Taylor Yates, a business strategist, finance student, ping pong enthusiast, and dog lover.
They founded Lucas Taylor because they believe that class and sophistication can be powerful agents of social change. Their dedication to the distinguished life stems from their understanding of what sophistication truly means. They believe that every man, regardless of appearance, wealth, or social status can become "the sophisticated man." Sophistication is more than just your lifestyle; it's the style of your life. It's about having integrity, treating others with respect, and valuing the things in this world that matter most. Their goal is to inspire and assist every man to become his best, sophisticated self.
Lucas Taylor is the modern renaissance. It's more than just a brand; it's a movement.
Join them.
Highlights from this interview:
- The power of being likable
- How to make a difference in the world
- Why can't we do it?
- Preparation
- Refusal to accept failure
- What you wear impacts performance
- Sophistication is more than clothes
Hope you enjoy this episode. I loved their energy and insight. You can follow their movement at www.lucastaylor.weebly.com.
Thank you for joining us on The Executive Edge! Have a great week and be sure to sign up for our FREE newsletter where you will learn how to uncover, realize and accomplish your potential!