Podcast: Play in new window | Download | Embed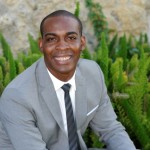 Episode 003 – The Executive Edge podcast. In this episode Donald Kelly, The Sales Evangelist shares how overcoming difficult circumstances motivated him to do BIG Things.
Donald Kelly is a top producing software sales professional, award winning speaker and host of one of the most electrifying and thought provoking podcast, "The Sales Evangelist". With his years of sales experience and the expert guests he brings on his show, Donald offers struggling inexperienced sellers and entrepreneurs the tools to bring their income and careers to a top producer's status. When he is not traveling the country evangelizing the message of effective selling, Donald loves to spend time with his beautiful wife soaking in the South Florida sun.
In this episode Donald shared the following:
1. What being homeless taught him
2. How sales people can express value
3. People can feel whether or not you are genuine
4. How to overcome fear
To connect with Donald goto www.thesalesevangelist.com.
Thank you for listening to The Executive Edge Podcast!
Music provided by FREESFX