Podcast: Play in new window | Download | Embed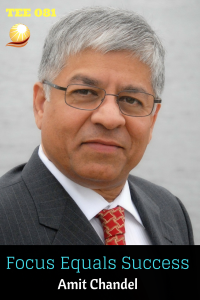 Focus is the secret to the success in meeting your goals and realizing your dreams. In episode 81 of The Executive Edge Podcast Amit Chandel shares how focus has opened the door to serve his clients and accomplish his goals.
Amit Chandel is a "Certified Tax Planner/Coach" and "Certified Tax Resolution Specialist". He has extensive experience in Tax Planning and Tax Problem Resolutions – helping his clients proactively plan and implement tax strategies that can rescue thousands of dollars in wasted tax expenditures.
He is a seasoned executive and has managed a variety of companies. He has extensive experience in Audits and Reviews; Financial Consulting; including Business Planning, Business Valuation, and Management Services. Amit has served as a Controller of Aerospace manufacturing and Defense R&D firms. He has worked with a variety of companies from Aerospace to Medicine.
Amit graduated with a Baccalaureate in Commerce from India. He then went on to complete his Bachelor of Science degree in accounting and a Master of Law in Taxation degrees from the United States. He has been certified as Certified Tax Planner/Coach (CTP/CTC), Certified Valuation Analyst (CVA), Certified Fraud Examiner (CFE), Certified Tax Resolution Specialist (CTRS) and Certified Exit Planner (CExP).
He is a member of several professional associations and served as past President of the Orange County Chapter of Institute of Management Accountants and Orange County Chapter of National Association of Certified Valuation Analyst.
Amit has been practicing as a CPA since 1993 and has had extensive experience in compliance service of various kinds to both individuals, and various business entities and has successfully represented his clients before the Internal Revenue Service (IRS).
He is a principal in the firm Focus CPA Group. His experience includes more than 24 years of very complex and highly specialized financial guidance for a wide variety of businesses and industries ranging up to mid-size businesses operations.
Amit is a published author. Two of his publications are on Amazon's best seller list. Amit has been recognized and honored by the National Academy of Best Selling Authors for his publications.
Highlights from this episode:
- How to focus I order to achieve your dreams
- Perseverance is key to success
- The importance of listening
- How to take a plan from start to finish
- Power of inspiration
- The importance of tax planning
- Studying empowers you to solve problems
- Focus in the moment produces results
Tips:
1. Overcoming obstacles (Guru on LinkedIn Chantel Soumis)
2. Focus on your goals
3. Listen rather than react
To learn more about or connect with Amit, go to: www.FocusCpa.com.
It is easy to get distracted. If you have a hard time with focusing on accomplishing what you really want to achieve, please email me at Linda@lhyatesconsulting.com. I would be happy to share more productivity tips and strategies that my clients have implemented in order to reach their goals.
Thank you for listening to The Executive Edge podcast! Please leave a question so we can address it on the podcast so you can uncover, realize and accomplish your potential!
Music provided by FREESFX
_____________________________________________________________
Linda H. Yates – The Image Energizer is a highly sought Keynote Speaker, Executive Coach and Corporate Trainer. She has produced over 250 educational seminars on helping individuals and businesses uncover, realize and accomplish their goals. Host of The Executive Edge podcast and author of Beyond the Clothes, and the audio course and workbook 6 Steps to ENERGIZE Your Personal Brand, Linda Yates believes that NOTHING is Impossible!