Podcast: Play in new window | Download | Embed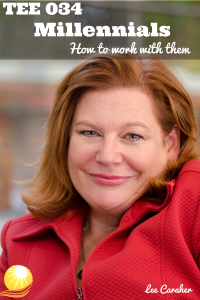 Millennials are entering today's job market at an ever-increasing rate. In episode 34 of The Executive Edge we learn how to work with millennials. Our guest is Lee Caraher, author of Millennials & Management: The Essential Guide to Making It Work at Work published by Bibliomotion.
Lee Caraher started Double Forte in 2002 as a new kind of communications firm designed to provide the best service in the business. Previously Executive Vice President at Weber Shandwick, president and founder of Red Whistle, and VP of SEGA, Caraher has managed multiple offices and hundreds of people of all ages, and was named in the 40 under 40 by industry publication PRWEEK. She serves on the boards of KQED Public Media and Grace Cathedral. She is a member of Entrepreneurs Only. Caraher holds a BA in medieval history from Carleton College, which she finds useful every day. She lives with her husband and two sons on the San Francisco Peninsula.
Highlights of this episode:
- Traveling with ease
- Perspective on control
- Not having to be the smartest person in the room
- How a sense of humor is an edge
- Being able to get to the heart of the matter quickly
- How questions can be an advantage
- How to handle feedback when you are caught off guard
- How to work with millennials
- Recruiting millennials
- How to turn a negative situation into a positive experience
- 4 generations – how to get along with each other in the office
- How to hit a home run with every project
- How please and thank you can give you traction
- Leadership tools to employ today
Connect with Lee at www.LeeCaraher.com. Her blog: www.RocksAreHard.com.
Achieving the goals of the business is possible with every generation. Understanding millennials and how to work with them can be the edge to get your business to the next level.
Thank you for listening to The Executive Edge podcast! Please leave a question so that we can address it on the podcast so that you can uncover, realize and accomplish your potential! Nothing is impossible!
Sign up for our image and success tips on www.LindaHYates.com.
Music provided by FREESFX
———————————————————————————————–
Linda H. Yates – The Image Energizer is a highly sought Keynote Speaker, Executive Coach and Corporate Trainer. She has produced over 250 educational seminars on helping individuals and businesses uncover, realize and accomplish their goals. Host of The Executive Edge podcast and author of the audio course and workbook 6 Steps to ENERGIZE Your Personal Brand, Linda Yates believes that NOTHING is Impossible!