Podcast: Play in new window | Download | Embed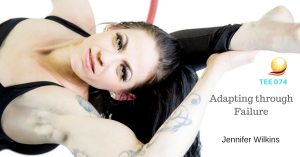 Have you ever had a dream that you didn't know how to make happen? Have you ever had a failure? In episode 74 of The Executive Edge podcast Jennifer Wilkins share's how her dream to dance and move has turned into a profitable business.
Jennifer Wilkins is the owner and creator of Cirque Asylum, an Aerial Arts Fitness Facility and Instructor Training Center. Jennifer has been practicing Aerial Arts for 13 years and based her expertise down to the fine details of functional progressive callisthenic training. She has created a functional fitness program and a flexibility program that is changing lives both by increasing progression rates and reducing injury. Jennifer has trained several generations of aerial arts instructors in a variety of apparatus including: Lyra, Pole, Silks, Flexibility, Foundational Strength, and Realignment.
Jennifer's fitness program has been recognized internationally and has attracted one of Utah's finest physical therapists as a certified instructor and expert in the field. Jennifer is passionate about what she does, from the arts aspect, to discovering new movement patterns and corrections within the skeletal and muscular system as a whole. Her aim is to improve overall quality of life long term through mind, body, and the arts.
Highlights from this episode:
- Finding a profitable demographic
- Attracting like-minded individuals
- The power of mentors and partners
- Building a team that complements your weaknesses
- Building a business without financial support
- Sacrifice pays off
- Creating business partnerships of trust
- Taking a dream to a successful business
- Looking back at decisions and how they shape your future
- Not taking things personally
- Adapting teaching style
- Starting from a clean slate
- Changing others perspective
- Taking a chance
- How your clients can teach you
- The importance of having fun
Tips:
1. Be picky on who you partner with
2. Create a vision of what you want
3. Willing to adapt and change
To connect with Jennifer, go to Jennifer Circus on Instagram or www.facebook.com/CirqueAsylum.
Our path to success may take different twists and turns. If I can assist you in that process, please email me at Linda@lhyatesconsulting.com.
Thank you for listening to The Executive Edge podcast! Please leave a question so we can address it on the podcast so you can uncover, realize and accomplish your potential!
Music provided by FREESFX
_____________________________________________________________
Linda H. Yates – The Image Energizer is a highly-sought Keynote Speaker, Executive Coach and Corporate Trainer. She has produced over 250 educational seminars on helping individuals and businesses uncover, realize and accomplish their goals. Host of The Executive Edge podcast and author of Beyond the Clothes, and the audio course and workbook 6 Steps to ENERGIZE Your Personal Brand, Linda Yates believes that NOTHING is Impossible!