Podcast: Play in new window | Download | Embed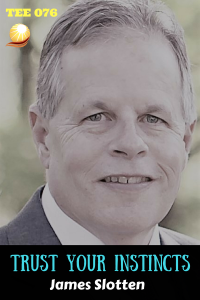 Do you listen to the voice inside? How has your instincts helped you fulfill your goals? In episode 76 of The Executive Edge podcast Jamie Slotten share's how he has achieved his goals by trusting his instincts.
James Slotten has over 25 years of experience in integrated marketing communications including positioning, brand and marketing communications, primary and secondary research, content development, direct response and digital marketing in corporate and agency environments. "Jamie" has worked with a wide range of consumer, business-to-business, technology, and health care clients including Nestle Beverages, McDonald's (Youth Marketing Group), Scholastic Book Clubs, Wilson Golf, American Medical Association Insurance, CIBA-Vision, Ameritech, BellSouth Mobility, Internet Security Services, CDW, Women's Foodservice Forum and Wellcentive.
He is also former Director, Marketing Communications for EarthLink.
In addition, Jamie facilitated presentation skills training in the United States, the UK and Canada following his graduation from Northwestern University with an MA in Communication Studies. He earned his BA in English and History from St. Olaf College.
A Chicago native, Jamie and his wife Debbie live on St. Simons Island with their two dogs, Scout and Hawkeye.
Highlights from this episode:
- Being versatile
- Preparing for the worst-case scenario
- Ability to control your destiny
- How to handle your weaknesses
- Leadership hard knocks
- Understanding what your good at and what you're not
- Your career or business is usually not a straight line
- Getting feedback from your customers
- Understanding what drives your customer's needs
- Networking is not a one-way street
- Do what you do well
- Do what you say you are going to do
Tips:
1. Get your plan on paper
2. Focus and execute
3. Identify and understand your audience
4. Be a strong team player
5. Offer to help others
6. Trust your instincts
To connect with Jamie, send him an email at jslotten@gmail.com.
Confidence comes when you trust your instincts and then act. If I can assist you in that process, please email me at Linda@lhyatesconsulting.com.
Thank you for listening to The Executive Edge podcast! Please leave a question so we can address it on the podcast so you can uncover, realize and accomplish your potential!
Music provided by FREESFX
_____________________________________________________________
Linda H. Yates – The Image Energizer is a highly-sought Keynote Speaker, Executive Coach and Corporate Trainer. She has produced over 250 educational seminars on helping individuals and businesses uncover, realize and accomplish their goals. Host of The Executive Edge podcast and author of Beyond the Clothes, and the audio course and workbook 6 Steps to ENERGIZE Your Personal Brand, Linda Yates believes that NOTHING is Impossible!