Podcast: Play in new window | Download | Embed
Today is the day! I have been teasing you for months and we are releasing The Executive Edge Podcast!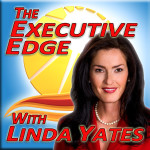 Thank you in advance for listening to this podcast and being willing to share it with your friends and colleagues. You may be wondering what exactly is this podcast all about. The Executive Edge podcast will focus on how each one of us can learn how to tap into our edge or potential to realize success.
I have invited several different guests from a variety of industries, professional backgrounds and life experiences to share how they have tapped into their edge and realized success. I know that we each have the ability to achieve our goals, objectives and most importantly dreams!
During this podcast I will share with you a little about what we will cover in the weeks to come and some background on why I decided to launch a podcast.
I hope you will enjoy each episode. I know it is possible for you to uncover, realize and accomplish your potential. Join me as we discover together The Executive Edge!