Podcast: Play in new window | Download | Embed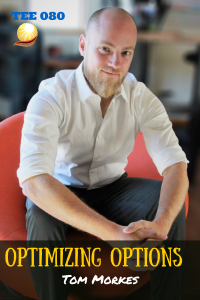 Have you ever experienced failure? How have you cultivated options after failing or having to pivot? In episode 80 of the Executive Edge Podcast entrepreneur Tom Morkes shares the importance of optimizing your options.
Tom Morkes is a West Point grad and Iraq War veteran turned author, publisher, and consultant. Tom is the author of "The Art of Instigating," "The Complete Guide to Pay What You Want Pricing" and "Collaborate," and the creator of the "Influencer Marketing Method" – a proven system for connecting with the biggest names in your industry to market and sell your products for you.
As a consultant, Tom helps high-profile influencers grow their reach, impact, and sales through massive product launches that lead to sustainable business growth, without the burn out. Tom is responsible for the marketing campaigns behind New York Times, Wall Street Journal, and USA Today bestsellers; he ran the marketing and promotional effort of the most-funded, non-fiction crowdfunding campaign in the world, which generated $453,803.00 in 33 days.
Altogether, Tom has helped his clients launch more than 40 products – from books, to courses, to summits, to in person events – that have generated tens of thousands of leads and millions in revenue. In the past year alone, Tom has personally coordinated hundreds of strategic partnerships that have generated an extra $587,607.13 in sales for his clients (and counting). When Tom isn't launching products, he spends his time working outside on his mountain farm, or drinking craft beer (or both).
Highlights from this episode:
- How we can learn from others we interact with
- Doing quality work
- Focus on being good in every interaction
- Being optimistic
- Seeing progress
- Naïve optimism
- Trial and error
- Persistence pays off
- Blogging and the door it can open
- Mindset of how everybody wins
- Abundance mentality
- Cultivating options
Tips:
1. Understand there will be "ups & downs"
2. Choose the path with the most options
3. Recognize options and when to act on them
To learn more about or connect with Tom, go to: www.tommorkes.com or @tmorkes on Twitter or sign up for his newsletter.
"Stuff" happens in life and business. Being nimble is the key to handle the ups and downs of everyday. If I can assist you in that process, please email me at Linda@lhyatesconsulting.com.
Thank you for listening to The Executive Edge podcast! Please leave a question so we can address it on the podcast so you can uncover, realize and accomplish your potential!
Music provided by FREESFX
_____________________________________________________________
Linda H. Yates – The Image Energizer is a highly-sought Keynote Speaker, Executive Coach and Corporate Trainer. She has produced over 250 educational seminars on helping individuals and businesses uncover, realize and accomplish their goals. Host of The Executive Edge podcast and author of Beyond the Clothes, and the audio course and workbook 6 Steps to ENERGIZE Your Personal Brand, Linda Yates believes that NOTHING is Impossible!