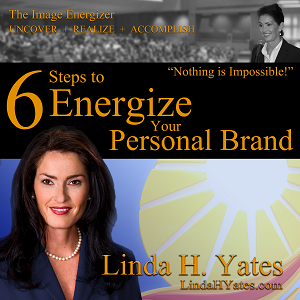 Make More Money, Appear More Confident, Attractive & Enjoy Greater Success Within 21 Days Of Completing This Self Study Course – Or Your Money Back!
Click here to learn about my 6 Steps to Energize Your Personal Brand!
Find out how to energize your Executive Presence in order to:
Get that Promotion
Increase Sales
Nail a Presentation
Make a positive First Impression
Linda H. Yates – The Image Energizer shares a great book on connecting with your audience:
What are your strengths?
What are you passionate about?
What's holding you back from uncovering your full potential?
Whether it is in your business or personal life our programs will help you uncover your strengths, realize your opportunities and accomplish your goals and objectives.
Latest Rave about Linda
"What a fun and informative program you gave at our chapter meeting last week on how to improve our body language as an expert witness! We even learned how to be more effective in negotiating. Linda's energy and subject matter expertise made her a favorite by all who attended. We will have to have you back for more!"
– Adrian Loud, Founder, Censeo Advisors
Latest Post
How do you connect with your audience? Do you find it hard connecting when communicating? This book was recommended to me by Tim Kinzler and it has changed the way I communicate with individuals, small groups and when speaking publicly. … Continue reading →
Google+
Linda Has Worked With: